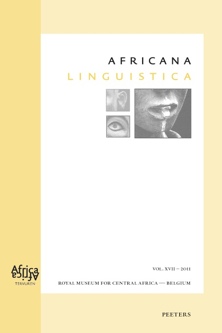 Document Details :

Title: Champignons consommés par les Pygmées du Gabon
Subtitle: Analyse linguistique des myconymes baka et kóya
Author(s): KONI MULUWA, Joseph , CALIXTE EYI NDONG, Hugues , DEGREEF, Jérôme , BOSTOEN, Koen
Journal: Africana Linguistica
Volume: 19 Date: 2013
Pages: 109-135
DOI: 10.2143/AL.19.0.3009262

Abstract :
Le présent article porte sur le vocabulaire relatif à quatre cents spécimens de champignons représentatifs de 29 taxons comestibles qui ont été collectés parmi deux communautés pygmées du Gabon: les Baka et les Bakóya. Ce vocabulaire myconymique spécifique en kóya (langue bantue) et baka (langue oubanguienne) désignant les mêmes espèces de champignons est analysé sur les plans formel et sémantique. Cette analyse linguistique dévoile les stratégies lexicales dont les deux populations forestières se sont servies pour dénommer les champignons qu'ils consomment ainsi que les motivations sémantiques et les mécanismes cognitifs qui les sous‑tendent. Il est aussi démontré que le kóya et le baka ne partagent aucun myconyme, ce qui aurait pu être l'indice de la subsistance d'une langue pygmée d'origine, perdue au profit des langues bantue et oubanguienne empruntées.


---

This article discusses the vocabulary relating to four hundred mushroom specimens representative of 29 edible taxa, collected from two pygmy communities in Gabon, the Baka and the Bakóya. This specific myconymic vocabulary in Kóya (a Bantu language) and Baka (an Ubangi language) designating the same mushroom species is analysed on the formal and semantic levels. The linguistic analysis reveals the lexical strategies used by the two forest-based populations to designate the mushrooms they consume, as well as the underlying semantic motivations and cognitive mechanisms. The study also shows that Kóya and Baka share no myconym, which could have indicated the existence of an original pygmy language lost in favour of borrowed Bantu and Ubangi languages.


Download article