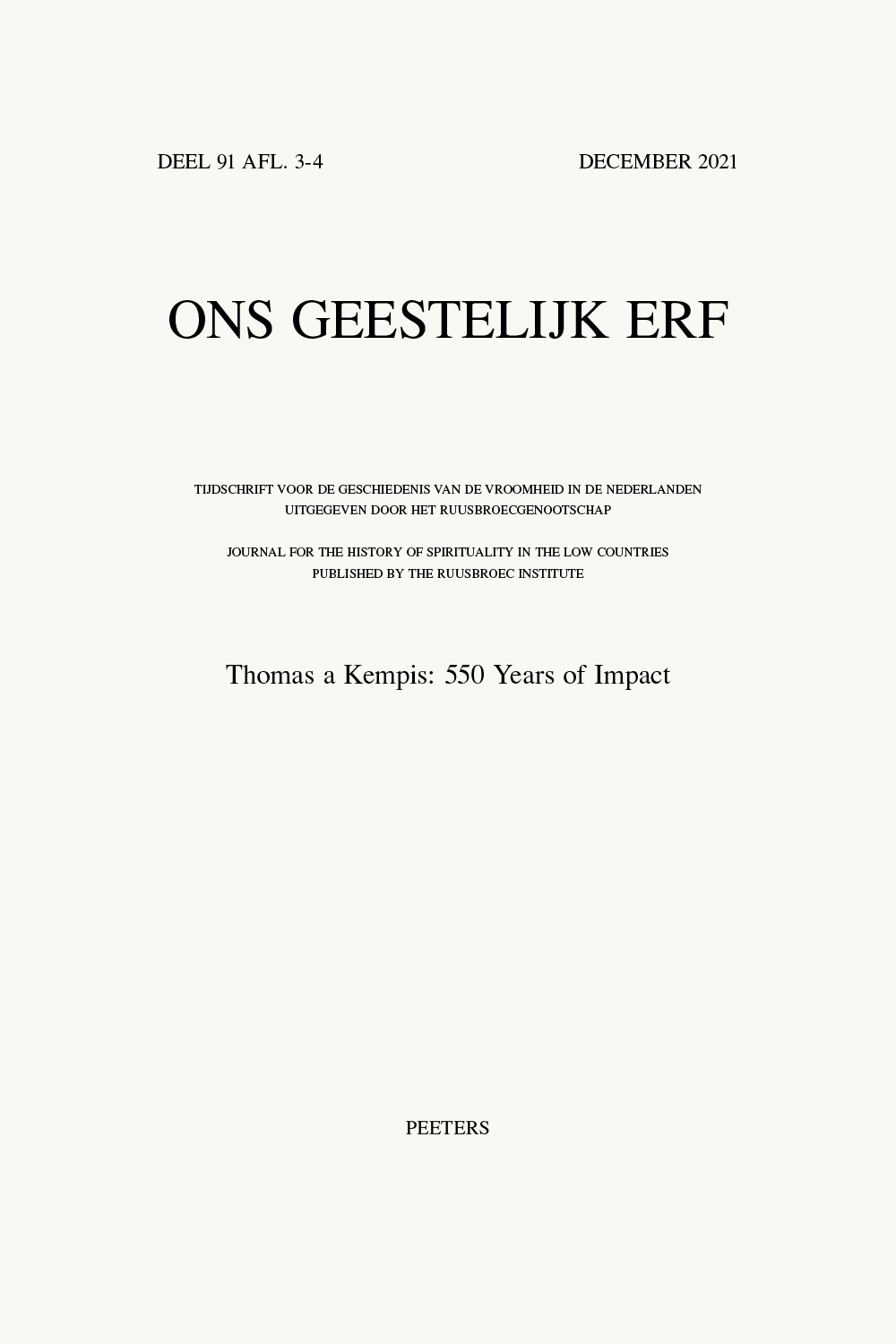 Document Details :

Title: De rolverdeling in de Dialoog van meester Eckhart en de leek
Subtitle: Een herbeschouwing
Author(s): VAN DAMME, Yves
Journal: Ons Geestelijk Erf
Volume: 84 Issue: 2-3 Date: Juni-September 2013
Pages: 202-243
DOI: 10.2143/OGE.84.2.3005441

Abstract :
The Dialogue between Eckhart and the layman is considered to be one of the most important examples of church criticism in the Middle Dutch literature of the fourteenth century. The text is staging a laymen and a master, who are involved in a conversation about a wide range of catechetical and spiritual topics. The master is being addressed to as 'Meester Eggaert', most likely referring to the famous Meister Eckhart. The biggest part of the text is conceived as a 'master-student dialogue' or 'Lehrdialog' in which the layman asks questions and the master tries to answer them. This paper starts with a short status quaestionis of the research on the text, which will show that up untill now the Dialogue is almost solely being discussed focusing on its 'anti-hierarchical' nature. This strong emphasis on the critical character has partly been based on the text's rather atypical role play. Although the Dialogue is using the question-answer scheme of the traditional 'Lehrdialog', scholars were stressing that the layman – compared to the pupil figure in other medieval dialogues – had an atypical large share of text 'to perform'. In this way one could argue that at certain moments the laymen is outstripping the master and taking the lead in the conversation. That a laymen is allowed to play such a big role could then, consequently, be considered as an example of the text's critical attitude towards the church. The main goal of this contribution however is to show that numerous mistakes were made in distributing the text amongst the two protagonists. I argue that an important share of the text passages which were considered as being part of the role of the laymen, can be attributed to the Eckhart character. This paper's aim is to provide an updated role distribution of the dialogue, which can provide a new basis for the future analyses of the Dialogue. Basing on the edition of Frans Josef Schweitzer, all the problematic passages are been discussed, and – where possible – a more logical and correct distribution of the role-play has been given. Arguments for the reassignment of the specific text passages are partially based on a comparison of the different versions of the text, and partially on an analysis of its structure. The new role distribution of the text also seems to make a better understanding of its content possible. It results in a more differentiated profile of the two protagonists, which is, at its own turn, underpinning the adjusted structure even further and can nuance the idea of the Dialogue as a 'typical' anti-hierarchical text.


Download article