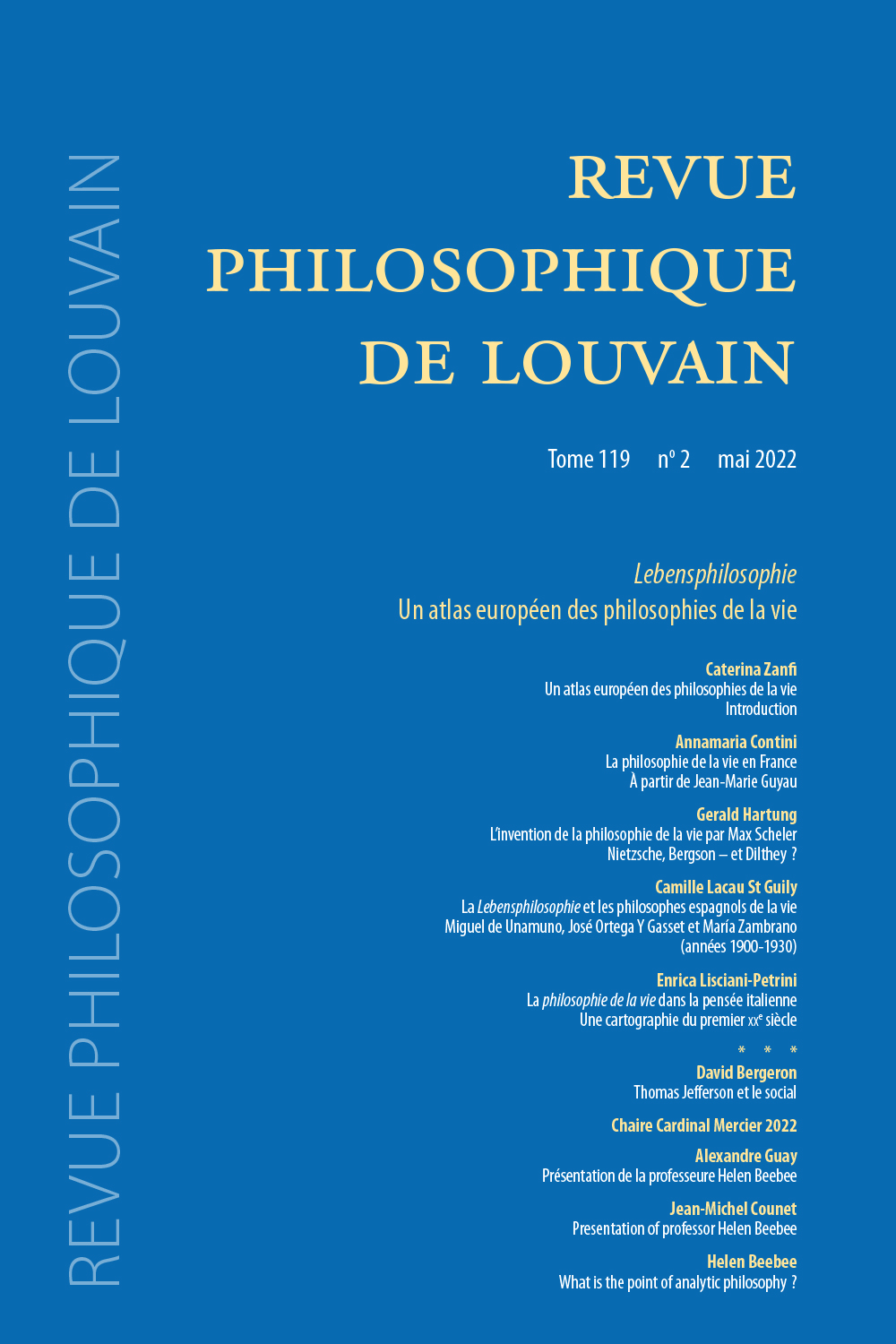 Document Details :

Title: Que signifie la vie pour la connaissance?
Subtitle: Pour une réflexion à partir de la Science de la logique de Hegel
Author(s): ROMETSCH, Jens
Journal: Revue Philosophique de Louvain
Volume: 111 Issue: 2 Date: mai 2013
Pages: 335-359
DOI: 10.2143/RPL.111.2.2985270

Abstract :
Dans la Science de la Logique de Hegel, «l'idée de vie» joue un rôle épistémologique important. «L'idée» est esquissée comme relation de vérité entre un sujet connaissant et des faits connaissables, ce qui est fondamental pour la connaissance. Néanmoins, si le fonctionnement de cette relation n'est examiné qu'en termes de connaissance ou en suivant un modèle de connaissance, une obscurité demeure quant à savoir comment cette relation peut être connectée à d'autres relations factuelles dans le monde. La notion hégélienne de vie a pour objectif de condenser en elle un caractère factuel pré-épistémologique, qui sert à expliquer comment des relations de vérité peuvent être reliées à d'autres relations factuelles. Cette lecture permet d'interpréter «l'idée de vie» hégélienne comme une tentative épistémologique importante pour dépasser le dualisme entre un «espace des raisons» et un «espace de la nature».


---

In Hegel's Science of Logic, the «idea of life» plays an important epistemological role. The «idea» is sketched as a truth-relation between knowing subjects and knowable facts, which is fundamental for knowledge. However, if its functioning is only examined on the level of knowledge or by following a model of knowledge, it remains obscure how this relation is being connected to other factual relations in the world. Hegel's notion of life is intended as an account of a pre-epistemological factual character, which explains how truth-relations can be connected with other fact-relations. This reading allows an interpretation of Hegel's «idea of life» as an important epistemological attempt to overcome the dualism of a «space of reasons» and a «space of nature».


Download article