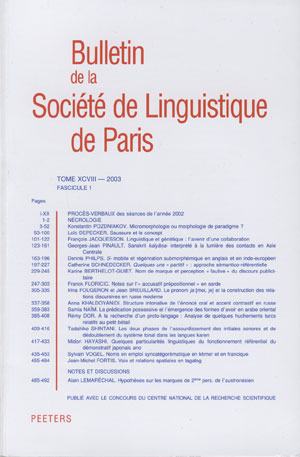 Document Details :

Title: Minus
Subtitle: Entre comparaison et coordination
Author(s): ORLANDINI, Anna , POCCETTI, Paolo
Journal: Bulletin de la Société de Linguistique de Paris
Volume: 107 Issue: 1 Date: 2012
Pages: 185-207
DOI: 10.2143/BSL.107.1.2959703

Abstract :
Il est notoire que plusieurs expressions de la comparaison peuvent évoluer vers une structure coordonnante; le cas le plus évident est représenté par le structures exprimant l'égalité, qui évoluent vers des structures en diptyque (par ex., la corrélation cum ... tum qui prend la valeur de et ... et). En ce qui concerne la comparaison d'inégalité, comme pour l'adverbe magis, nous envisageons deux parcours pour minus: adverbe quantitatif dans la stratégie de la comparaison, et, comme conséquence d'un procès de grammaticalisation, connecteur de subordonnées circonstancielles dans la stratégie de la coordination.


---

It is a well known fact that expressions of comparison may develop into coordinate structures. The most obvious case is represented by structures expressing equality, which evolve into two-part structures (e.g., Latin correlation cum ... tum which acquires the value of et ... et). Regarding the comparison of inequality, we outline two paths for minus in parallel with magis: on the one hand, as a quantitative adverb in the strategy of comparison, on the other hand, as a result of a process of grammaticalization, a connector subordinating circumstantial clauses in the strategy of coordination.


---

Numerose espressioni comparative possono evolvere verso una struttura coordinante: il caso più evidente è rappresentato dalle strutture esprimenti un'uguaglianza che evolvono verso strutture a dittico (per es., la correlazione cum ... tum che prende il valore di et ... et). Per quel che concerne la comparazione di disuguaglianza, come per l'avverbio magis, noi pensiamo a due percorsi evolutivi per minus: avverbio quantitativo nella strategia della comparazione, ed in seguito ad un processo di grammaticalizzazione, connettore che introduce subordinate circonstaziali nella strategia della coordinazione.


Download article