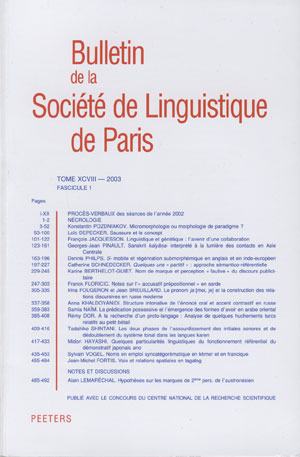 Document Details :

Title: Le verbe grec λιλαίομαι
Subtitle: Étude philologique et étymologique
Author(s): DIEU, Éric
Journal: Bulletin de la Société de Linguistique de Paris
Volume: 107 Issue: 1 Date: 2012
Pages: 145-184
DOI: 10.2143/BSL.107.1.2959702

Abstract :
Le verbe grec λιλαίομαι «désirer vivement» est traditionnellement considéré comme une forme issue d'une racine indo-européenne *las- «être déchaîné, sans frein, être avide». Ce rapprochement repose principalement sur une comparaison avec des formes extérieures au grec, et la racine *las- fournit essentiellement, dans les différentes langues indo-européennes, des formes nominales. Le présent article se propose de montrer, à travers une analyse philologique des données grecques, que le verbe λιλαίομαι doit plutôt être rattaché à une racine *leh2ṷ- dénotant l'idée de réaliser un gain ou d'amasser du butin, et dont sont vraisemblablement issues des formes grecques comme ἀπολαύω «profiter de, jouir de», hom. ληίς, ion. ληίη, att. λείᾱ «butin», λήιον «récolte, moisson», λᾱρός «agréable au goût, délicieux, savoureux», ainsi que le comparatif λώιον «meilleur».


---

The Greek verb λιλαίομαι 'to desire, be eager for, vehemently long for' is usually seen as deriving from a PIE root *las-. This etymology rests principally on a comparison with forms that are attested in other Indo-European languages, and mostly nominal formations derive from this root in these languages. The aim of this paper is to show, on the basis of a philological analysis, that λιλαίομαι is likely to be related to a PIE root *leh2ṷ- 'to profit by, have the benefit of, seize, capture, plunder', which is attested in the Greek words ἀπολαύω 'to enjoy', hom. ληίς, ion. ληίη, att. λείᾱ 'booty, spoils', λήιον 'standing crop', λᾱρός 'delicious', and in the comparative λώιον 'better'.


---

Es wird gemeinhin angenommen, dass das griechische Verbum λιλαίομαι 'heftig begehren' auf eine indogermanische Wurzel *las- 'zügellos sein, gierig sein' zurückgeht. Aber fast keine andere griechische Form stammt von dieser Wurzel, von der meist Nominalbildungen in den anderen indogermanischen Sprachen abgeleitet werden. Im vorliegenden Aufsatz wird eine neue Etymologie dieses Verbums vorgeschlagen: Eine philologische Diskussion legt die Annahme nahe, dass λιλαίομαι von einer indogermanischen Wurzel *leh2ṷ- 'gewinnen, erbeuten' stammt und etymologisch zur Sippe der griechischen Wörter ἀπολαύω 'genießen', hom. ληίς, ion. ληίη, att. λείᾱ 'Beute', λήιον 'Ernte', λᾱρός 'schmackhaft', und des Komparativs λώιον 'besser' gehört.


Download article