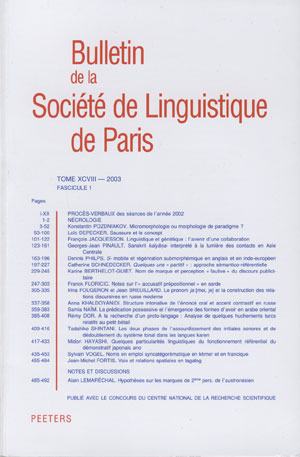 Document Details :

Title: La parole, acte créateur de langue
Author(s): MEJÍA QUIJANO, Claudia
Journal: Bulletin de la Société de Linguistique de Paris
Volume: 107 Issue: 1 Date: 2012
Pages: 43-102
DOI: 10.2143/BSL.107.1.2959700

Abstract :
Cet article examine la proposition de Ferdinand de Saussure d'une «linguistique de la parole» à partir de l'ensemble des sources actuellement disponibles, lesquelles sont tout d'abord soumises à une critique insistant notamment sur l'importance de la datation de ces sources. Pour entendre la théorie saussurienne, il faut en effet lire les mots de Saussure dans leur synchronie, car sa pensée a beaucoup évolué au long de son activité intellectuelle et sa terminologie présente ainsi plusieurs synchronies déterminées. Grâce à cette critique des sources, on retrace les signifiés de parole dans différents contextes où Saussure a utilisé ce mot et l'on suit ainsi, en signalant les différentes étapes du travail intellectuel de Saussure, la construction de la discipline depuis les années 1890. Ce parcours permet de montrer l'originalité de la proposition saussurienne: la créativité du sujet parlant s'impose, soit du côté diachronique soit du côté de la syntaxe synchronique, permettant à Saussure d'envisager en 1911 un nouvel objet d'étude qui est étonnant pour le maître genevois lui-même et reste encore énigmatique, particulièrement au niveau méthodologique, pour notre actualité linguistique.


---

This paper examines Ferdinand de Saussure's proposition of a 'linguistics of parole' and is based on the sources currently available. After a critical review of these sources, the crucial importance of the writing date is outlined: Saussure's thinking evolved throughout his intellectual activity and therefore different synchronies could be revealed in his terminology depending on the dates of writing. Thanks to this critical review of the sources, we have traced the route of the meanings of the word 'parole' that Saussure used in different contexts and followed the construction of the discipline since the 1890s, through the various stages of Saussure's intellectual work. This route shows the novelty of Saussure's proposition: the creativity of the speaker which is imposed by the diachronic phenomenon and the possibilities of synchronic syntax allowed Saussure in 1911 to consider this activity as an object of a study. The 'linguistics of parole', which is 'new', even surprisingly for Saussure himself until the end of his courses in general linguistics, still remains enigmatic for today's linguistics particularly at a methodological level.


---

Con base en el conjunto de las fuentes disponibles en la actualidad, este artículo explora la propuesta de Ferdinand de Saussure de una 'lingüística del habla'. En primer lugar, las fuentes se someten a una crítica que muestra especialmente la importancia de la datación de las fuentes: como el pensamiento de Saussure cambió mucho a lo largo de su actividad intelectual, su terminología presenta varias sincronías determinadas. Mediante esta crítica de fuentes, se realiza un recorrido de los significados de la palabra 'parole [habla]' en diferentes contextos en los cuales Saussure la utilizó, mostrando la construcción de la disciplina desde la década de 1890 y señalando las diferentes etapas del trabajo intelectual de Saussure. Este recorrido permite mostrar la novedad de la propuesta saussureana: la creatividad del hablante se impuso con el fenómeno diacrónico y con la sintaxis sincrónica permitiendo que Saussure concibiera en 1911 una actividad como objeto de estudio. La 'lingüística del habla' es una disciplina 'nueva', incluso sorprendente para el mismo Saussure hasta el final de sus cursos de lingüística general y sigue siendo todavía enigmática, sobre todo a nivel metodológico, para la lingüística actual.


Download article