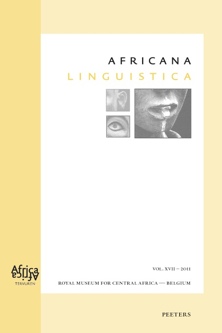 Document Details :

Title: Semantic-pragmatic Change in Bantu -no Demonstrative Forms
Author(s): NICOLLE, Steve
Journal: Africana Linguistica
Volume: 18 Date: 2012
Pages: 193-233
DOI: 10.2143/AL.18.0.2959605

Abstract :
Demonstrative forms consisting of a noun class concord plus a demonstrative root -no (or a phonologically very similar form) are found in a number of Bantu languages. The root *-nó indicating proximity to the speaker has been reconstructed for Proto-Bantu, and in a survey of 99 Bantu languages almost all of the -no demonstrative forms indicate a closer degree of proximity to the speaker than any of the other demonstratives attested in each language. In this paper, I consider a range of additional meanings associated with -no demonstrative forms in various languages, and the loss (partial or complete) of spatial‑deictic meaning. These changes are correlated with differences in semantic‑pragmatic scope (from scope over an entity, through scope over a proposition, to scope over a larger discourse unit), and will be analysed as examples of different stages in a diachronic process.


---

On trouve, dans plusieurs langues bantu, des démonstratifs constitués d'un accord de classe nominale et d'un radical démonstratif de type -no, ou d'une forme phonologiquement similaire. Le radical *-nó, marquant la proximité du locuteur, a été reconstruit en proto-bantu. Dans une étude portant sur 99 langues bantu, tous les démonstratifs en -no indiquent une plus grande proximité par rapport au locuteur que tout autre démonstratif attesté dans chacune des langues. Dans cet article, j'étudie un ensemble de sens additionnels associés aux démonstratifs en -no dans différentes langues, ainsi que la perte, totale ou partielle, de son sens spatio-déictique. Ces différents sens sont corrélés à des différences dans leur portée sémantico-pragmatique qui va d'une entité à une proposition et, enfin, à une unité discursive plus large. Ils sont ensuite analysés comme représentant différentes étapes évolutives dans un processus diachronique.


Download article