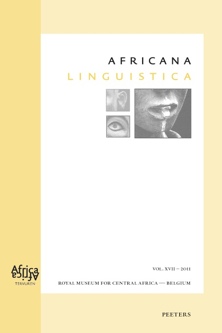 Document Details :

Title: Clause-final Negative Markers in Southeastern Bamana Dialects
Subtitle: A Contact-induced Evolution
Author(s): IDIATOV, Dmitry
Journal: Africana Linguistica
Volume: 18 Date: 2012
Pages: 169-191
DOI: 10.2143/AL.18.0.2959604

Abstract :
A compact group of southeastern Bamana dialects, viz. southern dialects of the Baninko area and dialects of the neighboring Gwandugu, Shendugu and Ganadugu areas, uses an innovative clause-final negative marker, in addition to a negative marker earlier in the clause (immediately following the subject), which it shares with the other Bamana dialects. Although both the form and the negative polarity semantics of this clause-final marker can be offered a language-internal diachronic account, I argue that its innovative pattern of use and ongoing grammaticalization in these dialects are best analyzed as an instance of contact-induced evolution modeled on the neighboring Senufo languages. The initial transfer of the pattern occurred when Senufo speakers shifted to Bamana.


---

Un groupe compact de dialectes bamana du Sud-Est (à savoir les dialectes méridionaux de l'aire Baninko et les dialectes des aires Gwandugu, Shendugu et Ganadugu voisines) présente une innovation dans l'expression de la négation. Ces parlers utilisent un marqueur négatif en fin de proposition en plus du marqueur négatif qui apparaît, comme dans les autres dialectes bamana, plus avant dans la proposition, immédiatement derrière le sujet. Même si, sur le plan diachronique, la forme et le sématisme négatif de ce marqueur final peuvent être expliqués par la reconstruction interne, je soutiens que son caractère novateur et sa grammaticalisation progressive sont dus à un phénomène de contact avec les langues senufo voisines, le modèle ayant été initialement transposé lorsque des locuteurs senufo ont adopté le bamana.


Download article