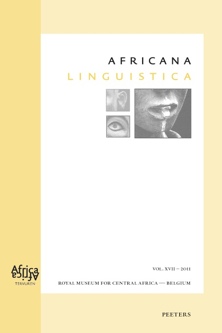 Document Details :

Title: -ile and the Pragmatic Pathways of the Resultative in Bantu Botatwe
Author(s): CRANE, Thera Marie
Journal: Africana Linguistica
Volume: 18 Date: 2012
Pages: 41-96
DOI: 10.2143/AL.18.0.2959601

Abstract :
The Bantu suffix -ile, common across Bantu, has intricate interpretive patterns in many languages, and especially in the languages in the group known as Bantu Botatwe. While showing evidence for the common grammaticalization pathway from resultative to anterior to perfective or simple past, the -ile suffix in these languages also has numerous information-structuring functions. For example, in Totela (K41), the suffix is crucially linked with discourse relevance, while in Tonga (M64), it contradicts or revises a proposition in the discourse context set. This paper argues that these and all other functions seen with -ile in the Bantu Botatwe languages can be derived from a resultative origin, and that the pragmatic, information‑structuring nature of the resultative itself should be taken into account in semantic reconstructions of the -ile suffix in Bantu.


---

Le suffixe -ile, commun dans les langues bantu, présente dans de nombreuses langues et particulièrement dans les langues du groupe appelé Bantu Botatwe, des problèmes interprétatifs complexes. Ces dernières langues, tout en montrant que le suffixe a suivi une trajectoire de grammaticalisation assez commune, allant du résultatif à l'antérieur, au perfectif ou au passé simple, montrent aussi que le suffixe y assume de nombreuses fonctions dans la structure informative. Ainsi en totela (K41), le suffixe assume un rôle essentiel pour la pertinence du discours, alors qu'en tonga (M64), sa présence contredit ou corrige une proposition du contexte discursif. Le présent article soutient l'hypothèse selon laquelle ces fonctions et toutes celles que présente -ile dans le groupe Bantu Botatwe, peuvent être dérivées à partir d'une origine résultative et que, pour la reconstruction sémantique de -ile en bantu, il devrait être tenu compte de la nature pragmatique et structurante du résultatif lui-même.


Download article