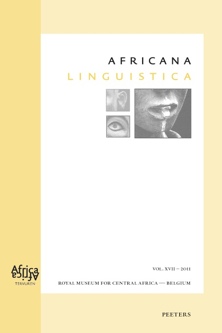 Document Details :

Title: Grammaticalization and Subjectification in the Semantic Domain of Possibility in Kirundi (Bantu, JD62)
Author(s): BOSTOEN, Koen , MBERAMIHIGO, Ferdinand , DE SCHYVER, Gilles-Maurice
Journal: Africana Linguistica
Volume: 18 Date: 2012
Pages: 5-40
DOI: 10.2143/AL.18.0.2959600

Abstract :
This article is a first systematic study of the expression of possibility in Kirundi, more specifically of its verbal markers. Possibility is traditionally seen as one of the core components of the semantic domain of modality. The onomasiological approach of this modal sub‑domain has resulted in the identification of four verbal potential markers, i.e., the auxiliaries -bâsh- and -shóbor-, the semi‑auxiliary -shóbok-, and the TAM affix -oo-. These four markers of possibility manifest different degrees of grammaticalization along the full verb > auxiliary > affix cline. Grammaticalization in the structural domain seems to be correlated with semantic change, both within and beyond the semantic domain of possibility. The related verbs -shóbor- and -shóbok-, which have no or little remaining lexical uses, cover the entire semantic domain of possibility in contrast to -bâsh- which has still clearly distinct lexical uses ('to be active, to be healthy') and only conveys participant‑inherent possibility. The inflectional affix -oo-, covering the entire domain of possibility and having developed other modal and non‑modal meanings, manifests the most advanced semantic generalization. Moreover, -oo- underwent the strongest subjectification within the semantic domain of possibility and even developed different intersubjective uses. Hence, the most grammaticalized marker of possibility in Kirundi not only underwent the strongest semantic generalization, but its meaning is also the most (inter)subjectified.


---

Le présent article est la première étude systématique de l'expression de la possibilité en kirundi, plus précisément de ses marqueurs verbaux. La possibilité est considérée traditionnellement comme un des components principaux du domaine sémantique de la modalité. L'approche onomasiologique de ce sous-domaine de mode a résulté dans l'identification de quatre marqueurs verbaux de potentialité, c'est-à-dire les auxiliaires -bâsh- et -shóbor-, le semi-auxiliaire -shóbok- et l'affixe TAM -oo-. Ces quatre marqueurs de possibilité manifestent différents degrés de grammaticalisation suivant la série du verbe complet > auxiliaire > affixe. La grammaticalisation dans le domaine structurel semble être corrélée au changement sémantique, dans et hors du domaine sémantique de la possibilité. Les verbes relatés -shóbor- et -shóbok-, qui n'ont plus ou peu d'usages lexicaux, couvrent entièrement le domaine sémantique de la possibilité contrairement à -bâsh- qui retient des usages lexicaux clairement différents ('être actif, être en bonne santé') et qui exprime seulement la possibilité inhérente aux participants. L'affixe de conjugaison -oo-, couvrant le domaine sémantique de la possibilité dans son entièreté et ayant développé d'autres valeurs modales et non modales, manifeste la généralisation sémantique la plus avancée. En outre, -oo- a subi la subjectivation la plus forte dans le domaine sémantique de la possibilité et a même développé différents usages intersubjectifs. Par conséquent, le marqueur de possibilité le plus grammaticalisé en kirundi a non seulement subi la généralisation sémantique la plus forte, mais sa valeur sémantique est aussi la plus (inter)subjectivée.


Download article