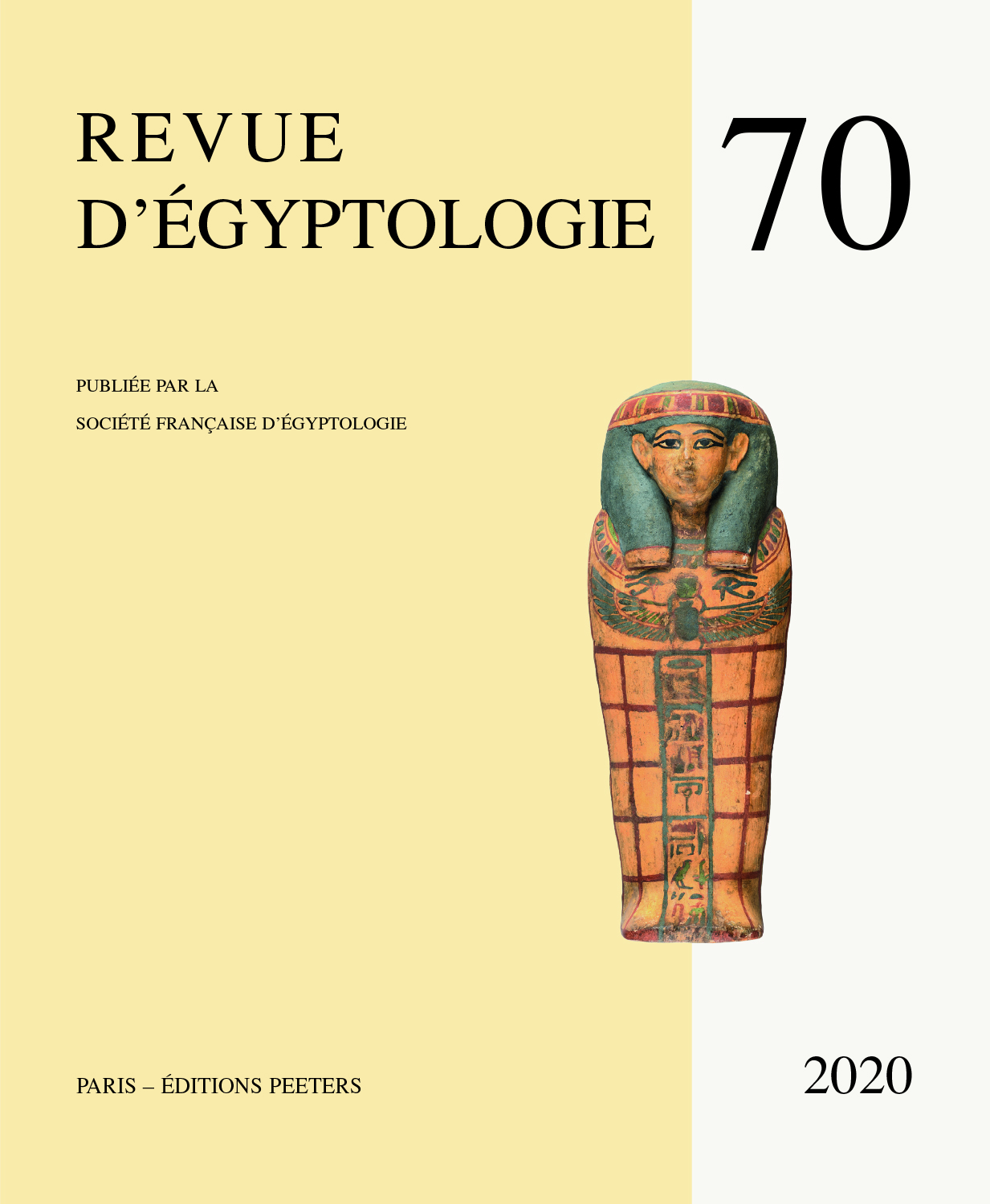 Document Details :

Title: Une stèle de Mafkat (Montgeron 2007.4)
Author(s): DHENNIN, Sylvain
Journal: Revue d'Égyptologie
Volume: 63 Date: 2012
Pages: 67-81
DOI: 10.2143/RE.63.0.2957947

Abstract :
Cet article est la publication d'une stèle inédite appartenant aux rares objets funéraires inscrits provenant de la nécropole pharaonique de Mefkat, dans le Delta occidental. Datable de la fin de la XXVe dynastie, elle présente des caractères d'archaïsme dans le texte typiques de cette époque, ainsi que des critères stylistiques qui se retrouvent sur les documents du début de la XXVIe dynastie. Les trois figures divines gravées dans le cintre, organisées en une triade familiale de type osirien, sont les trois divinités principales de la ville de Mefkat, représentées ici ensemble pour la première fois. Les inscriptions font connaître le défunt, Ânkhhor fils de Padiaset et Naisaâroudj, dont la famille a occupé des charges sacerdotales liées à l'observation des étoiles et au calcul des horaires cultuels de la déesse Hathor locale.


---

This paper deals with an unpublished stela, belonging to the rare funerary objects recorded from the necropolis of Pharaonic Mefkat, in the Western Delta. The document can be dated to the XXVth dynasty, it shows features of archaism in the text that are typical of that time, as well as stylistic elements that are found on the documents of the beginning of the XXVIth dynasty. The three divine figures represented on the top, arranged as a family triad of osirian type, are the three main deities of the city of Mefkat, appearing together for the first time. The inscriptions concern Ankhhor son of Padiaset and Naisaaroudj, whose family held priesthoods related to the observation of stars and the calculation of hours for the worship of the local goddess Hathor.


Download article