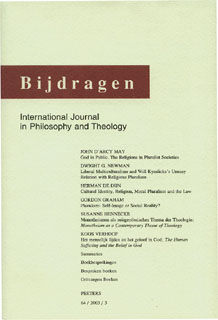 Document Details :

Title: Touching and Being Touched
Subtitle: A Book Review Essay of Toine van den Hoogen's A Taste of God: On Spirituality and Reframing Foundational Theology
Author(s): COOPER, Patrick Ryan
Journal: Bijdragen
Volume: 73 Issue: 3 Date: 2012
Pages: 325-336
DOI: 10.2143/BIJ.73.3.2184720

Abstract :
As a fundamental theologian in Nijmegen, Toine van den Hoogen's recent monograph A Taste of God strongly argues for the need for academic theology to adequately respond to rapidly changing contextual situations wherein 'Theology needs to find its 'subject' (the mystery of God) anew and develop the object (its own argument) anew in terms of aesthetic experience'. For van den Hoogen, such a theological aesthetics is resourced in terms of contemporary spiritualties that form a contemporary 'immanent mysticism' and by doing so, argues that 're-locating' fundamental theology within such an immanent view can allow for Christians to critically, as well as publically substantiate their acts of faith in a rationally accountable, intellectually plausible and thus, communicable manner. Seeking a convergence of images of spirituality and mysticism wholly accessible and thus, publicly accountable in terms of such immanent mysticism, van den Hoogen draws an interesting, critical analogy between aesthetic perception with that of 'natural contemplation' (natuerlic scouwen) as put forward by the late-medieval Brabantine mystical theologian, Jan van Ruusbroec (d. 1381). However, it is argued that van den Hoogen restricts his hermeneutical mode of engagement with Ruusbroec as solely one upon phenomenological lines, while bracketing the specificity of the Admirable doctor's equally rich, theological fluency. Such limited engagements that envision human autonomy are not only hermeneutically restrictive, yet appear to replicate similar historical positions that Ruusbroec himself consistently throughout his work went to great lengths to argue against. Building from his descriptions of immanent mysticism, analysis is then given of the potential fruitfulness and the need for expanding van den Hoogen's aesthetic turn within fundamental theology as a communicative strategy for 'possible ways of publicly accounting for the religious orientation to God'. Such turns are justified in moving beyond transcendental reflection – marked by its 'modes of thought' and truth-claims, characteristic of the previous century, and substantiated by its anthropological presumption of the 'hypertrophic subject' of self-mastery – while opting instead for more aesthetically 'impassioned forms' and their embodied logic. Thus, despite frequent critique, the advances made by Toine van den Hoogen in seriously considering spirituality and mysticism as legitimate resources for fundamental theological reflection I argue is very timely and promising for further creative theological exploration.