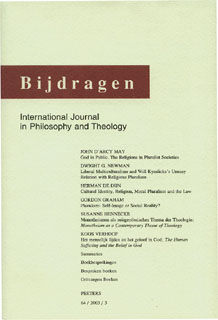 Document Details :

Title: Salvation Outside the Walls of the Church?
Subtitle: On New Religiosity and Institutionalization
Author(s): ZONDERVAN, Ton
Journal: Bijdragen
Volume: 73 Issue: 3 Date: 2012
Pages: 304-324
DOI: 10.2143/BIJ.73.3.2184719

Abstract :
A transformation of religion is taking place. One aspect of this is the emergence of a new religiosity, which moves largely outside traditional churches. The central question in this article is: In what ways do new forms of religious institutionalization develop outside the institutionalized churches? A second, related question is how we can evaluate those forms theologically. The nature of this article is fundamental-theological. It aims at indicating the possibilities for a non-ecclesiocentric approach of new religiosity and institutionalization. Basic aspects of contemporary new religiosity are described, focusing on the forms of organization it takes on. The concepts of institution and institutional change are discussed from a sociological perspective, refering to Charles Taylor and Jean-Claude Kaufmann. Anton Zijderveld's sociological theory of postmodern institutionalization is introduced and evaluated. Then Ganzevoorts' and Hermans' contributions to practical-theological theorizing about religious institutionalization are evaluated as well. The final section provides an impetus to ecclesiological reflection on contemporary religious institutionalization from a culture-theological perspective, drawing upon Schillebeeckx's ecclesiological ideas in Church: the Human Story of God.