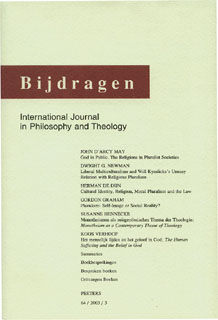 Document Details :

Title: Hume's Atheistic Agenda
Subtitle: Philo's Confession in Dialogues, 12
Author(s): LEMMENS, Willem
Journal: Bijdragen
Volume: 73 Issue: 3 Date: 2012
Pages: 281-303
DOI: 10.2143/BIJ.73.3.2184718

Abstract :
This article offers a reading of the rhetoric and intentions underlying the famous last part of Hume's Dialogues concerning Natural Religion. Here, Philo, generally considered to speak for Hume, embraces some form of the argument from design, apparently contradicting his own skeptical withdrawal of every form of theism throughout the preceding parts of the Dialogues. Scholars have tried to understand what sort of argument is here brought forward, while often ignoring the broader rhetorical context of Philo's turning the tables. Relying on Kemp Smith and Penelhum, this article defends that the apparent assent to a vague version of the belief in a Mind-like Deity forms in fact part of the rhetoric of irony underlying the whole of Hume's Dialogues. This irony hides, more specifically, a subtle distancing of Philo of his friend Cleanthes, who up to the end defends a form of providential theism wherein God is conceived of as a morel Redeemer and Judge, in line with classical Christian theology and traditional faith. This article points out that the dynamics of the Dialogues as a whole, culminating in Philo's and Cleanthes' conversation in Part 12, reveal how a hidden atheistic agenda undergirds Philo's pious genuflections in favour of the argument from design. This confession can thus be understood to reflect Hume's practical critique of two main strands in the natural religion discourse of 18th century Scottish intellectual culture. First of all, Hume (through Philo) dismisses the alleged intrinsic relation between rational religion and piety, taken for granted in his peer culture and vigorously defended by Cleanthes through the Dialogues. Secondly, with Philo's confession Hume distances himself in a subtle way from the attempts of his moderate clerical friends to seek for a reconciliation between the central tenets of the experimental theism on which the argument from design thrives and orthodox Christian faith, which was still seen – in one form or another – as the 'true religion', on which humans had to rely for their spiritual comfort and moral flourishing.