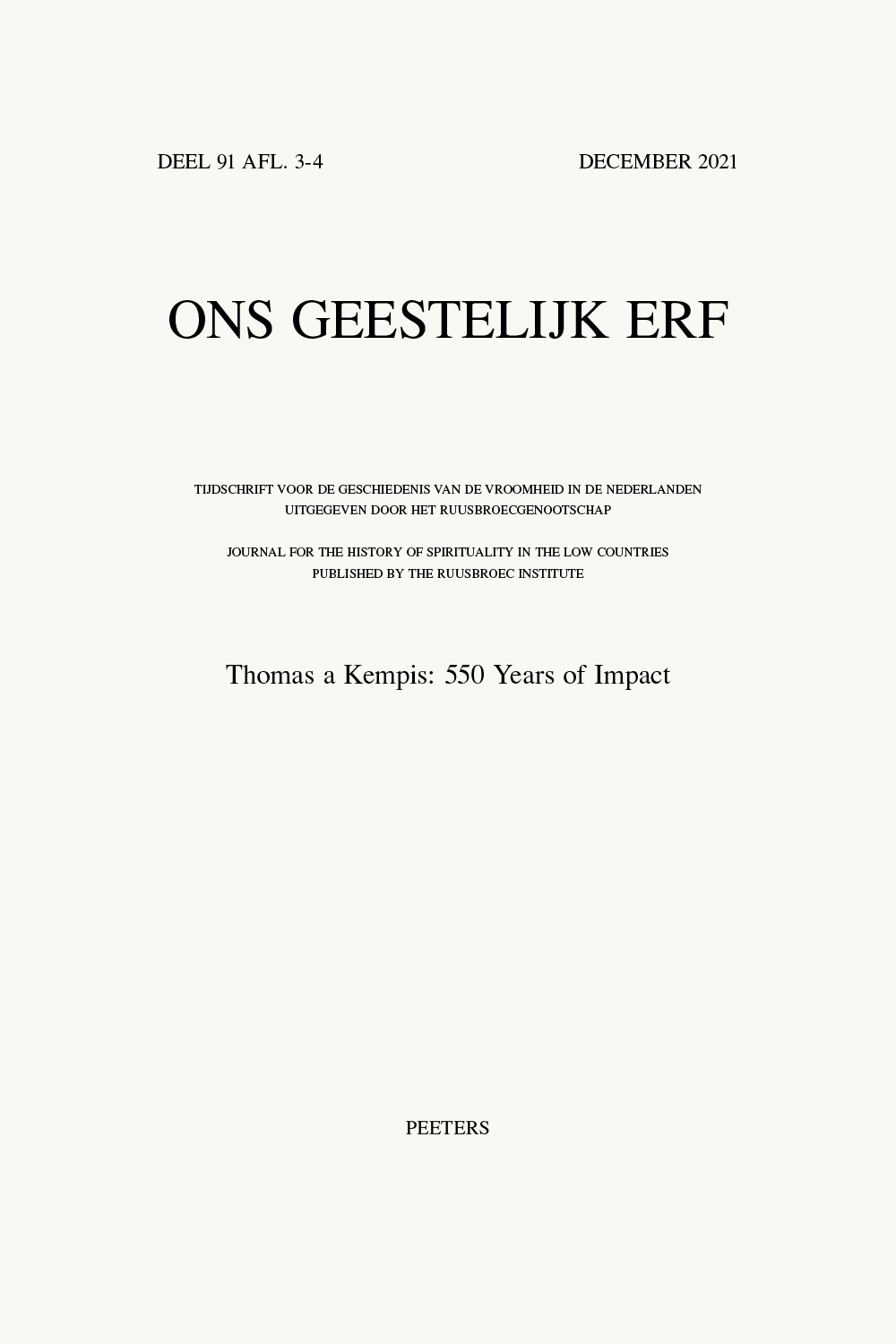 Document Details :

Title: A Revised Chronology for the Inquisitors of the Brothers and Sisters of the Common Life, ca. 1393-1409
Author(s): RALEY, J. Michael
Journal: Ons Geestelijk Erf
Volume: 83 Issue: 1 Date: Maart 2012
Pages: 57-95
DOI: 10.2143/OGE.83.1.2152736

Abstract :
Paul Frédéricq's five-volume collection of inquisitorial documents, entitled Corpus documentorum inquisitionis haereticae pravitatis Neerlandicae, has been used by virtually all scholars of the Devotio moderna since the early twentieth century. The collection contains many transcription and dating errors, however, particularly with regard to documents relating to the Modern Devotion. As a result, crucial documents have been misdated and their chronological order confused. Frédéricq asserted, for example, that Dominican Friars Eylard Schoneuelt and Jacob of Soest had conducted inquisitions of Modern Devout sisterhouses situated in and around Utrecht in ca. 1393–94, when in fact they only were commissioned as inquisitors, respectively, in 1399 and 1409. This means that, to date, those Dominicans involved in earlier inquisitorial investigations of accusations leveled against the sisters and brothers have not been identified by the Devotio moderna scholarship. It also means that many of the conclusions and chronologies surrounding the Modern Devout must now be reevaluated and, if necessary, corrected. This article has taken the initial step of providing corrected dates for several crucial papal bulls and other related documents from the 1390s, correcting the dates for the inquisitorial commissions of Jacob of Soest and Eylard Schoneuelt, and establishing the identities and dates of activity of the principal inquisitors within the Utrecht and Cologne dioceses during the 1390s and early 1400s, namely, Friars Alexander of Kempen (ca. 1392–ca. 1395), Adam of Gladbach (ca. 1395–99), and Eylard Schoneuelt (1399–ca. 1404). Jacob of Soest was the inquisitor at Cologne from 1409 through 1422, but whether he himself ever undertook an investigation of the Modern Devout remains unanswered, even though he almost certainly was involved in the case of Friar Matthew Grabow and the Modern Devout during the 1410s. The inquisitorial investigations of the Modern Devout sisters at Rhenen compelled the chief Martha of the sisters, Aleyda Cluten, and their superior, Father Wermboud of Boskoop, to develop alternative strategies of defense that included denying their customs under oath before the inquisitor if need be, and refusing to allow the sisters to confess to priests outside of the Modern Devout. The death in December 1398 of the chief defender of the Modern Devotion, Brother Gerhard Zerbolt of Zutphen, coupled with the replacement of Friar Adam of Gladbach with Friar Eylard Schoneuelt in June 1399, moreover, likely influenced the decision of the brothers and sisters to seek papal privileges in 1399–1401 that would allow them to adopt the approved Third Order Rule of St. Francis and subsequently organize the Chapter of Utrecht without coming under the oversight of the Franciscans.


Download article