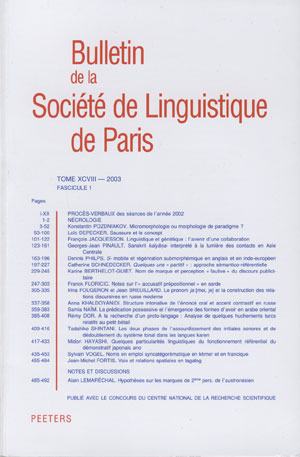 Document Details :

Title: La grammaticalisation de lat. tamquam (si) + verbe fini
Subtitle: De l'origine corrélative comparative à l'emploi complétif
Author(s): BODELOT, Colette
Journal: Bulletin de la Société de Linguistique de Paris
Volume: 106 Issue: 1 Date: 2011
Pages: 263-291
DOI: 10.2143/BSL.106.1.2141871

Abstract :
Tamquam (si), à la différence de quasi (cf. simulo quasi... dès Plaute) n'introduit pas encore de proposition subordonnée complétive en latin ancien. On admet couramment que cet emploi, plus purement fonctionnel et grammatical, est une particularité du latin postclassique. Dans cette étude, il s'agira de retracer jusqu'en latin préclassique l'origine de cet emploi et de montrer comment, par le biais de contextes ambigus et d'influences croisées entre tours nominaux (tamquam + syntagme nominal) et tours verbaux (tamquam (si) + verbe fini), ont pu se développer certains effets de sens et certaines particularités de construction qui ont progressivement rendu possible l'emploi de tamquam (si) comme introducteur d'une proposition complétive. Dans cette «transfonctionnalisation», un rôle important est joué par la polyphonie de l'énoncé, susceptible de reproduire le point de vue du locuteur et / ou du sujet modal de l'énoncé, et impliquant une incidence syntaxique variable de la proposition en tamquam (si). Pour appréhender les différentes étapes de grammaticalisation qui sont à l'oeuvre dans ce cas, il sera utile d'étudier les points suivants: l'emploi des temps dans la subordonnée, la présence ou non de la notion de (fausse) hypothèse ou de feinte, l'ellipse, l'ordre de succession des deux propositions, la valence du noyau prédicatif de la proposition-hôte, la forme d'un ana- ou cataphorique référant éventuellement à la proposition en tamquam (si), la possibilité d'employer dans cette dernière un réfléchi indirect.


---

Unlike quasi (cf. simulo quasi... as early as Plautus), tamquam (si) does not introduce substantive clauses in early Latin. It is currently admitted that this use, more purely functional and grammatical, is specific to Silver Latin. The aim of this study is to trace back, as far as preclassical Latin, the source of this use and to show how ambiguous contexts and crossed influences between Noun Phrases (tamquam + Noun Phrase) and Verb Phrases (tamquam (si) + finite Verb) favoured the development of several contextual senses and specific structures that progressively allowed tamquam (si) to introduce a substantive clause. In this functional shift, an important role is played by the polyphonic character of the utterance, which may reflect the viewpoint of the speaker as well as that of the modal subject of the utterance, thus entailing a variable syntactic incidence of the clause introduced by tamquam (si). To grasp the different stages of the grammaticalization process which is at work in that case, it will be useful to study the following items: the use of tenses in the subordinate clause, the presence or absence of the notion of (false) hypothesis or simulation, ellipsis, the order of the two clauses, the valency of the predicative center of the hostclause, the form of the ana- or cataphoric item which may happen to refer to the clause introduced by tamquam (si), the possible use in the latter clause of an indirect reflexive adjective or pronoun.

---

Tamquam (si), a diferencia de quasi (cf. simulo quasi... ya en Plauto), no introduce oraciones completivas en latín arcaico. Se suele admitir que esta función no se gramaticaliza hasta el latín postclásico. En este estudio se va a rastrear el origen de este uso hasta el latín arcaico y a poner de manifiesto cómo, a través de contextos ambiguos y de influjos mutuos entre giros nominales (tamquam + sintagma nominal) y giros verbales (tamquam (si) + verbo personal) han podido desarrollarse ciertos matices y ciertas características formales que han ido haciendo posible el uso de tamquam (si) como introductor de una oración completiva. En esta «transfuncionalización» desempeña una función importante la polifonía del enunciado, susceptible de reflejar el punto de vista del hablante y / o del sujeto modal del enunciado, y que implica distintas posibilidades de dependencia sintáctica de la oración de tamquam (si). Para comprender las diversas fases del proceso de gramaticalización que opera en este caso, conviene estudiar los puntos siguientes: los tiempos de la subordinada, la presencia o ausencia de la noción de (falsa) hipótesis o de ficción, la elipsis, el orden de las dos oraciones, la valencia del predicado de la oración principal, la forma de un fórico que remita a la oración de tamquam (si) y la posibilidad de emplear en esta un reflexivo indirecto.


Download article