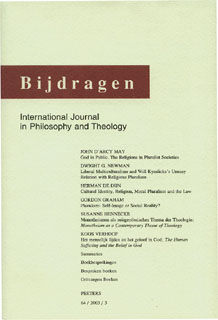 Document Details :

Title: A Letter to the Other Father
Author(s): BEN-NAFTALI, Michal
Journal: Bijdragen
Volume: 72 Issue: 3 Date: 2011
Pages: 283-297
DOI: 10.2143/BIJ.72.3.2141836

Abstract :
Michal Ben-Naftali focuses on the role of the figure of Abraham in Derrida's writings. It concerns however yet another Abraham. Not Abraham the Jewish patriarch, nor Abraham the founder of monotheism, but Abraham the sacrificing father. Just as Kafka wrote a letter to his father which was actually a letter written to himself as he imagined his father would have had responded to a letter he never wrote, Derrida also wrote different letters to two of his 'fathers': Foucault and Levinas. In Ben-Naftali's essay this complicated exchange of letters sets the scene for a careful reflection on Derrida's notion of the subject as it changed from the melancholic figure of the subject-heir in his early writings to the figure of the sacrificing father in his later writings. The heated conflict between the father and the son or, better still, between the father and the father reaches a climax on Mount Moriah as it becomes clear that Derrida understands the notion of absolute responsibility that is at stake in Abraham's sacrifice differently than Levinas does. While Levinas locates the constitution of the ethical in the Biblical commandment 'Thou shall not kill' that radiates through the face of the Other, Derrida argues that it is the sacrifice itself that is the condition of the ethical as such. The aporia at the centre of absolute responsibility is an aporia of violence: one cannot 'give' something to the one, without 'taking' something from the other. Assuming absolute responsibility always involves a gift of death. The ethical demands absolute sacrifices. Ben-Naftali argues that in this untenable, almost unbearable position one can catch a glimpse of a notion of subjectivity that Derrida seems to have kept in reserve and to which he returned in the autumn of his life as if it concerned a lament of old age.