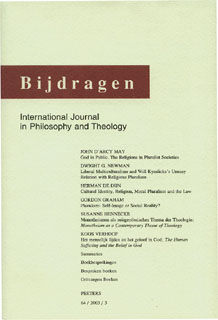 Document Details :

Title: Of a Promising Atheism
Author(s): VAN SEVENANT, Ann
Journal: Bijdragen
Volume: 72 Issue: 3 Date: 2011
Pages: 265-282
DOI: 10.2143/BIJ.72.3.2141835

Abstract :
Derrida's suggestion that one can be 'faithful to more than one' also inspires Ann Van Sevenant's article. Through a close reading of two dense passages from Derrida's seminal essay Penser ce qui vient, Van Sevenant offers a detailed interpretation of his notion of a 'radical atheism'. Rather than designating the firm conviction that there is no God, radical atheism expresses our relation to the always unpredictable arrival of the other. Radical atheism is therefore closely related to what Derrida calls the 'messianic structure of experience', the experience of a structural openness to otherness. If this radical atheism is 'promissory', as Van Sevenant argues, it is because it holds out the expectation of a coming justice. This promise of justice should not be confused with eschatological expectations of final judgment though. While eschatological expectations all too easily lead to resignation or passive awaiting, the justice Derrida refers to cannot be put off until later, but demands that we act here and now without any assurance that justice will also be actually attained. Where does such a promise come from? The fact that this promise is firmly entrenched in the tradition of monotheistic religions does not entail that it could be exclusively claimed by either one of them. The belief in a coming justice is originally inscribed in the bare fact of having faith. This 'faith' cannot be reduced to religious faith, although it is not opposed to it either. Van Sevenant argues that this non-religious faith could form the basis of a universalizable and thus democratic culture of singularities. Such a culture would not consist of men and women who have forsaken their religious or irreligious convictions, but of people who 'remember', as Derrida formulates it in Archive Fever, 'that the other peoples could say the same thing – in another way'.