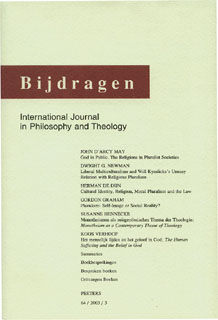 Document Details :

Title: The descensus ad infernos
Subtitle: An Exercise in the Interaction between Art and Theology
Author(s): RIKHOF, Herwi
Journal: Bijdragen
Volume: 72 Issue: 2 Date: 2011
Pages: 123-160
DOI: 10.2143/BIJ.72.2.2131107

Abstract :
Whether art is to be considered a proper locus theologicus, and if so, how is the question that guides an exploration of the interaction between art and theology on the theme of Christ's descent into hell. For the exploration the difference in the way the descent is represented in East and West is relevant, since in the East this episode of the passion of Christ has developed into the representation of the resurrection. How is this development to be evaluated theologically? As representative of the Western theology Thomas Aquinas is used. An analysis of two texts shows that he does not only consider the descent into hell a christological, but also a soteriological event and even primarily so and that, although his views have not changed over the years, the argumentation for these views has. The interaction between theology and art reveals that the various types in the East (and the West) embody different theological insights and problems, while the interaction between art and theology reveal the importance of the nexus mysteriorum.