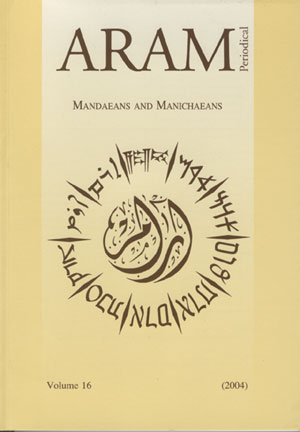 Document Details :

Title: The Symbolism of the Drabša in the Mandaean Illustrated Manuscripts
Subtitle: The Drabša of Radiance
Author(s): VAN ROMPAY, Sandi
Journal: ARAM Periodical
Volume: 22 Date: 2010
Pages: 263-310
DOI: 10.2143/ARAM.22.0.2131041

Abstract :
The prime Mandaean symbol of radiance, light and glory – the drabša – is referred to in many of the Mandaean religious manuscripts and is still an integral part of Mandaean ceremonies today. In this paper I intend to investigate the placement of this symbol in eight Mandaean illustrated scrolls. These findings will be compared with the actual ritual use of the drabša and its observable present-day function in Australia. The comparison will demonstrate the diversity and complexity of its various representations in the manuscripts. Additionally, other factors such as placement, components, artistic style and illustrative markers will be considered to create a fuller understanding of the illustrated drabša. Finally, I look at the possible origin of these visual forms. I intend to link the symbolic representation of the drabša to relevant imagery in the Middle East in late antiquity, a time when icons such as the Christian cross and the Jewish menorah assumed their central importance. Images from the Mesopotamian town of Dura-Europos will be a particular focus.


Download article