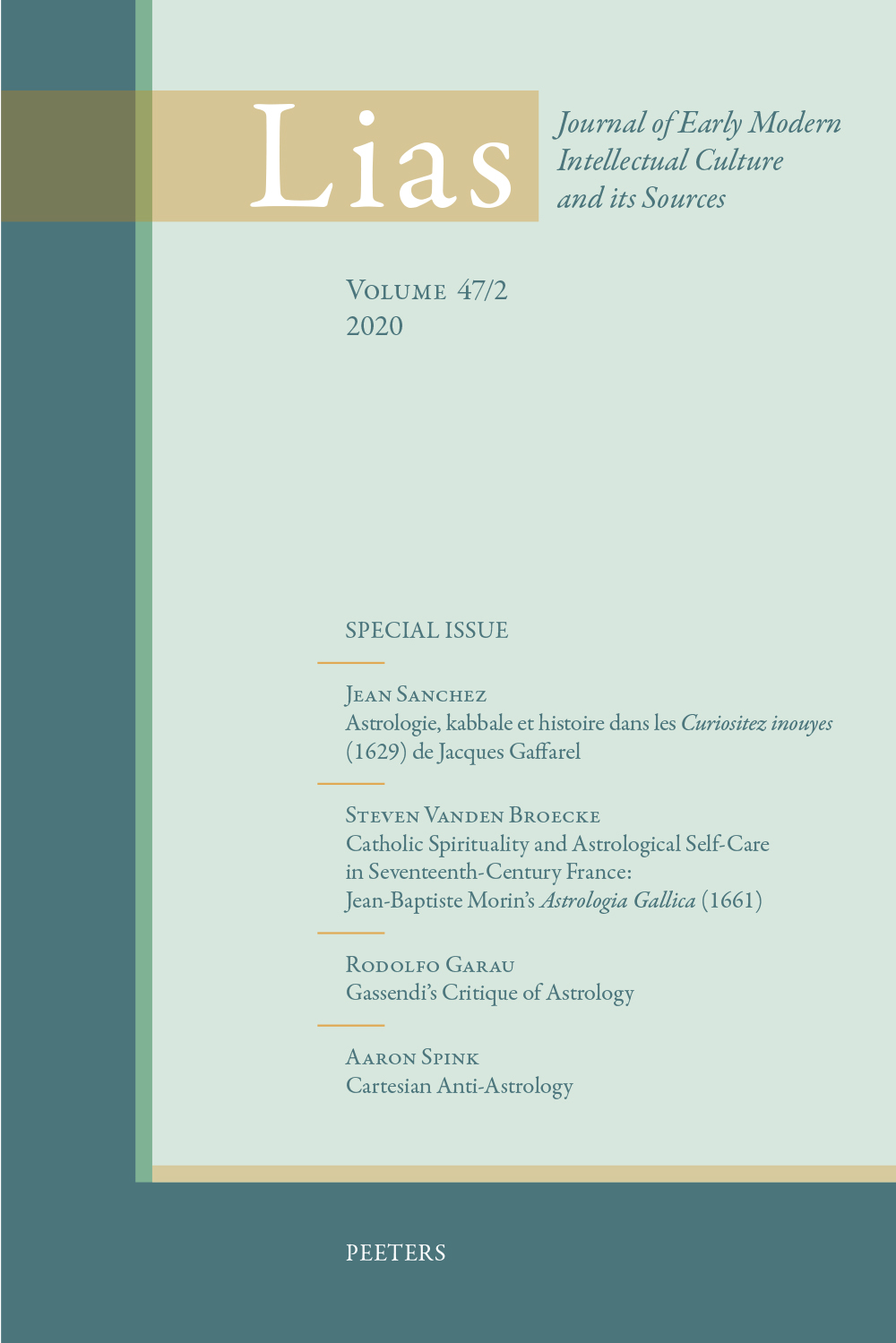 Document Details :

Title: Johannes Koerbagh's Lost Album Amicorum Seen through the Eyes of Pieter de la Ruë
Author(s): MERTENS, Frank
Journal: Lias
Volume: 38 Issue: 1 Date: 2011
Pages: 59-127
DOI: 10.2143/LIAS.38.1.2126652

Abstract :
Almost two decades ago Steven Dirk Post in an article on the manuscript notes of Pieter de la Ruë referred to Johannes Koerbagh's unknown album amicorum, which De la Ruë saw in 1731 and 1739. De la Ruë's unpublished and largely unexplored manuscript offers important additional information to our knowledge of Johannes Koerbagh (1634-1672), the younger brother of the more well-known Adriaen Koerbagh (1633-1672), more specifically concerning a relatively early stage in his intellectual development. It was Adriaen Koerbagh who gained notoriety as a freethinker, yet Johannes was also suspected of having collaborated in the publication of Adriaen's Een Bloemhof van allerley lieflijkheyd (1668) and in the attempt that same year to publish his Een Ligt Schijnende in Duystere Plaatsen. The present contribution, based on De la Ruë's notes and on a number of previously unknown documents, examines the academic networks in which Johannes Koerbagh, at that time a student of theology and a candidate for the ministry, circulated in the late 1650s and early 1660s. It will be argued that the majority of the entries in his album do not reflect a specific interest in modern, much less Cartesian or Socinian, thought. Nevertheless, the last contributions to the album, by Lodewijk Meyer (1629-1681), Johannes Bouwmeester (1634-1680) and Jacobus Vallan (1637-1720), all acquaintances of Benedictus de Spinoza (1632-1677), seem to foreshadow the future intellectual development of Johannes Koerbagh, who – more than a year before Adriaen – was suspected of harbouring 'very heretical and unsound opinions'.


Download article