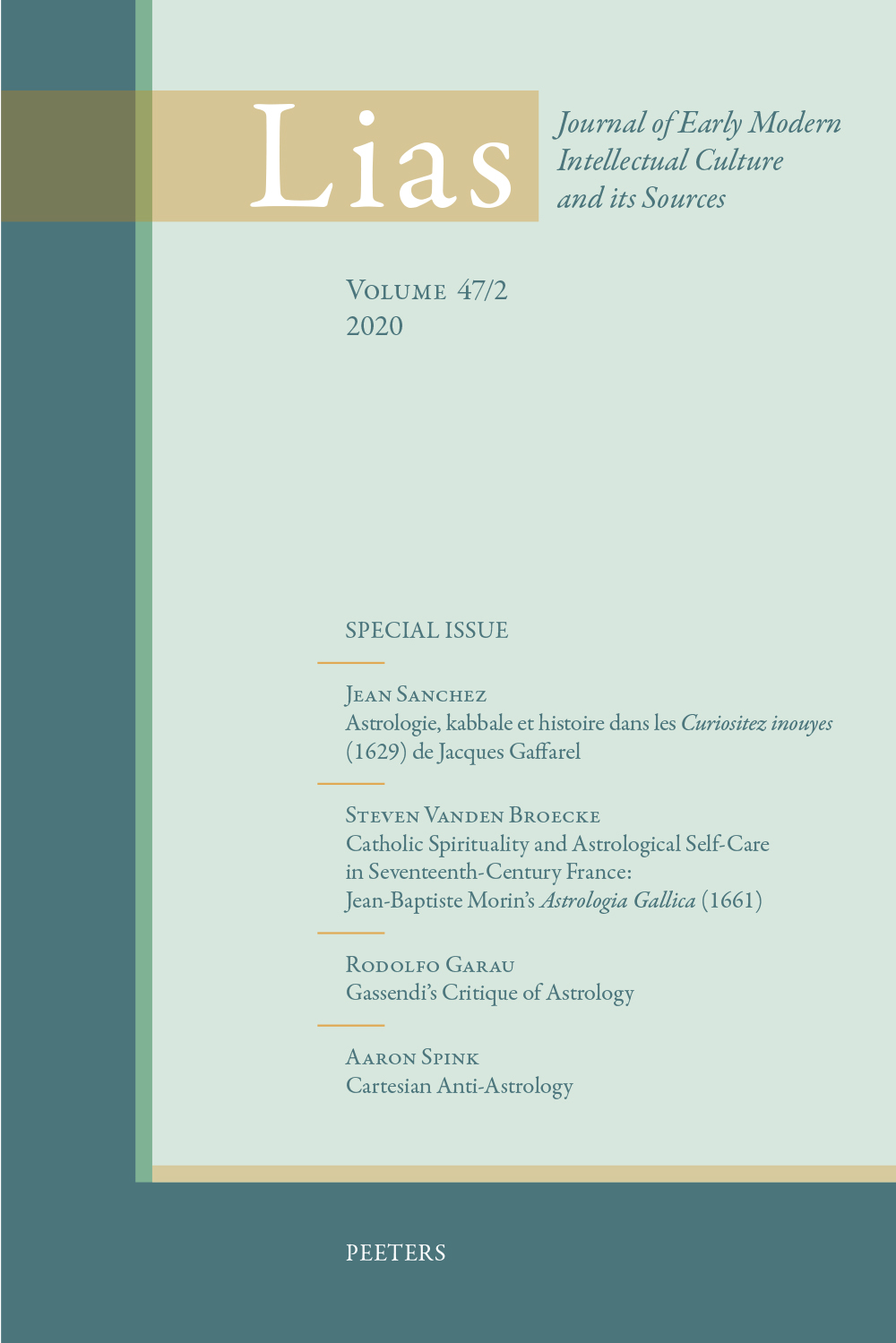 Document Details :

Title: Reading the Career of Johannes Koerbagh
Subtitle: The Auction Catalogue of His Library as a Reflection of His Life
Author(s): VAN HEERTUM, Cis
Journal: Lias
Volume: 38 Issue: 1 Date: 2011
Pages: 1-57
DOI: 10.2143/LIAS.38.1.2126651

Abstract :
In Bloemhof van allerley lieflijkheyd (1668), Adriaan Koerbagh (1633-1669) disseminated Spinozistic views in print before Spinoza himself did. Two years earlier, his brother Johannes (1634-1672), a candidate for the ministry since 1660, had been reprimanded by Amsterdam's reformed consistory for 'highly unsound and heretical opinions'. Partly based on previously unpublished archival sources and Johannes Koerbagh's catalogus librorum, this contribution aims to highlight the background of Adriaan Koerbagh's younger brother. It is generally assumed that the Koerbaghs became strongly involved in Amsterdam's heterodox and Spinozistic circles in the early 1660s. However, Johannes Koerbagh's disputation under Maresius, published in 1663, still presents traditional anti-Socinian views. It is arguable that Koerbagh remained fairly orthodox at least to the outside world until 1663, as Maresius may not have wanted to publish the disputation had he known or suspected that Koerbagh was a confirmed Socinian. Johannes Koerbagh's shift from more or less orthodox Calvinist candidate for the ministry to outspoken (Socinian or Socinianizing) 'radical' is documented by the auction catalogue of his library, which also reflects his abiding Coccejan and Republican sympathies. The catalogue, which so far has not received any attention in the research on Spinoza's circle, helps to complete the picture of Johannes Koerbagh's academic, theological and 'radical' career. A transcription of the catalogue follows after the article (pp. 38-48), accompanied by a chronological index of dated and datable books between 1665 and 1672 (appendix 1, pp. 49-51) and an Index of authors and of anonymous works in the catalogue (appendix 2, pp. 51-57).


Download article