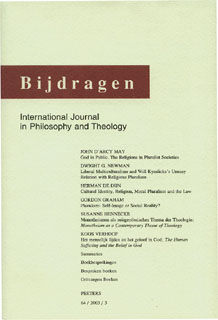 Document Details :

Title: The Late Schelling's Theo-Monism Opposed to Badiou's Subtractive Ontology
Author(s): TRITTEN, Tyler
Journal: Bijdragen
Volume: 72 Issue: 1 Date: 2011
Pages: 65-76
DOI: 10.2143/BIJ.72.1.2083116

Abstract :
F.W.J. von Schelling's late philosophy of mythology and revelation attempts, among other ventures, to outline monotheism in opposition to polytheism, theism, deism, pantheism, theosophism, negative theology etc. This is far from a repetition of traditional monotheism's assertion that there is one God. Schelling asserts instead that God is one and this presupposes a foregoing multiplicity. Moreover, God is only one by virtue of His separation from being. God extracts Himself from being; He is not a being. This facet of monotheism excuses Schelling from onto-theo-logy or metaphysics as presence. Alain Badiou also attempts to avoid this critique, but via subtractive ontology. While subtractive ontology is similar to Schelling's God as withdrawn from all beings, there are essential differences. The contention is that Schelling presents what could be termed 'theo-monism' in contradistinction to monotheism as it is traditionally understood as well as in contradistinction to Badiou's impersonal, but otherwise similar, subtractive ontology.