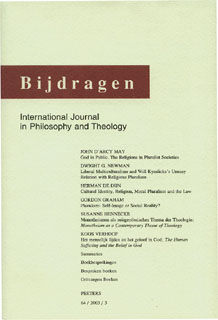 Document Details :

Title: The Independence of the Church from the National State
Subtitle: A Canonical Analysis
Author(s): MEIJERS, A.P.H.
Journal: Bijdragen
Volume: 72 Issue: 1 Date: 2011
Pages: 3-17
DOI: 10.2143/BIJ.72.1.2083113

Abstract :
The relation between Church and state is nowadays at stake. This article concerns the relation between Church and state from an ecclesiastical and canonical point of view. It makes clear, how the ecclesiastical doctrine reacts to social developments in relation to the national state in order to safeguard the independence of the Church. The 19th century ecclesiastical doctrine on the Church as a societas perfecta reacts on doctrines on the national states, which claimed absolute sovereignty and by that subordinated the Church to the civil government and civil law. With societas perfecta doctrine the Church defends its sovereignty in the domain of the spiritual good of men. In this way the Church defines and protects its divine origin and independence from the national state. In the first half of the 20th century the democratic and constitutional national states were developed, which acknowledges religious freedom on a constitutional level as a human and a civil right. Because of this progress the Second Vatican Council could formulate its doctrine on religious freedom based on the traditional ecclesiastical teaching of the freedom of the religious act. By then, the independence of the Church is founded and defended on the freedom of the Church, which is guaranteed in national states, which acknowledge religious freedom as a human and civil right. Although one can say that there is discontinuity in the ecclesiastical teaching on the Church as a societas perfecta and the ecclesiastical doctrine on religious freedom, there exists also continuity, because both ecclesiastical doctrines intend to safeguard the independence of the Church in human society.