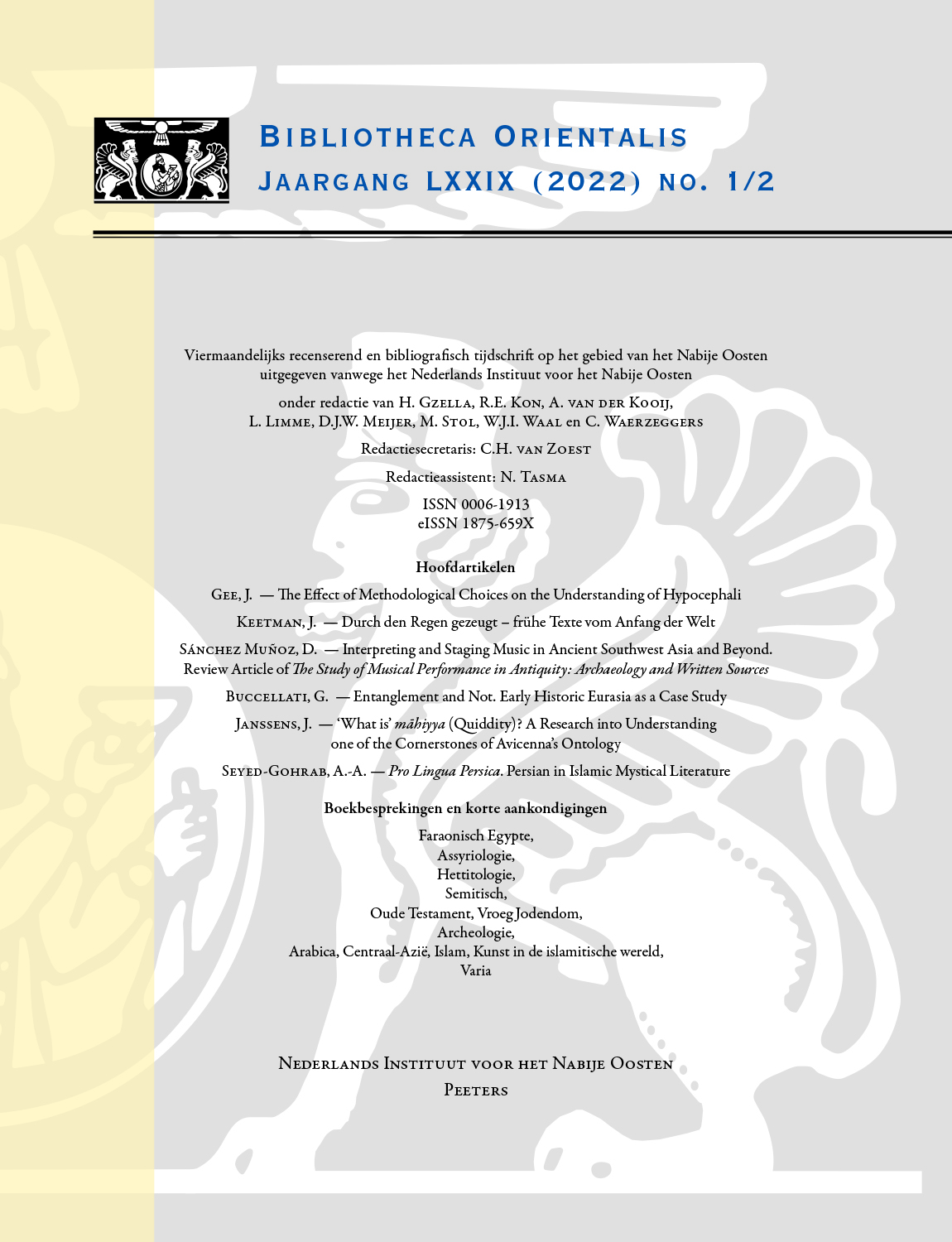 Document Details :

Title: Archeologie
Author(s):
Journal: Bibliotheca Orientalis
Volume: 67 Issue: 5-6 Date: 2010
Pages: 568-602
DOI: 10.2143/BIOR.67.5.2071231

Abstract :
SAGONA, A., ZIMANSKY, P. - Ancient Turkey. (Routledge World Archaeology Series 1). Routledge, London & New York, 2009.

RUBINSON, K.S., SAGONA, A. (eds.) - Ceramics in Transitions. Chalcolithic through Iron Age in the Highlands of the Southern Caucasus and Anatolia. (Ancient Near Eastern Studies Supplement 27). Peeters, Leuven, 2008.

MOOREY, P.R.S. - Idols of the People. Miniature Images of Clay in the Ancient Near East. Oxford University Press, Oxford, 2003.

MAGUIRE, L.C. - Tell el-Dab'a XXI. The Cypriot Pottery and its Circulation in the Levant. (Denkschriften der Gesamtakademie 45). Verlag der Österreichischen Akademie der Wissenschaften, Wien, 2009.

SCHROER, S., KEEL, O. - Die Ikonographie Palästina/Israels und der Alte Orient. Eine Religionsgeschichte in Bildern. Band I: Vom ausgehenden Mesolithikum bis zur Frühbronzezeit. (IPIAO 1). Academic Press Fribourg, Fribourg, 2005.

JACOBSON, D.M. - The Hellenistic Paintings of Marisa. (The Palestine Exploration Fund Annual 7). Maney Publishing, London, 2007.

BALDERSTONE, S. - Early Church Architectural Forms. A Theologically Contextual Typology for the Eastern Churches of the 4th-6th Centuries. (Buried History Monograph 3). Australian Institute of Archaeology, Melbourne, 2007.

AVANZINI, A. (ed.) - A Port in Arabia between Rome and the Indian Ocean (3rd c. BC - 5th c. AD). (Khor Rori Report 2). L'Erma di Bretschneider, Roma, 2008.

RIVA, C., VELLA, N.C. (eds.) - Debating Orientalization. Multidisciplinary Approaches to Change in the Ancient Mediterranean. (Monographs in Mediterranean Archaeology 10). Equinox Publishing Limited, London, 2006.

BAIMATOVA, N.S. - 5000 Jahre Architektur im Mittelasien. Lehmziegelgewölbe vom 4./3. Jt. v. Chr. bis zum Ende des 8. Jhs. n. Chr. (Archäologie in Iran und Turan 7). Deutsches Archäologisches Institut, Eurasien-Abteilung, Außenstelle Teheran, Berlin, 2008.

Korte aankondigingen:
EL-KHOURI, L.S. - The Nabataean Terracotta Figurines. (BAR International Series 1034). Archaeopress, Oxford, 2002.

DOWNEY, S.B. - Terracotta Figurines and Plaques from Dura-Europos. The University of Michigan Press, Ann Arbor, 2003.

SOMMER, M. - Hatra. Geschichte und Kultur einer Karawanenstadt im römisch-parthischen Mesopotamien. Verlag Philipp von Zabern, Mainz-am-Rhein, 2003.

HILLBOM, N. - For Games or for Gods? An Investigation of Minoan Cup-holes. (Studies in Mediterranean Archaeology 132). Paul Aströms Förlag, Sävedalen, 2003.

SHAW, J.W. - Kommos. A Minoan Harbor Town and Greek Sanctuary in Southern Crete. American School of Classical Studies at Athens, Princeton, 2006.


Download article