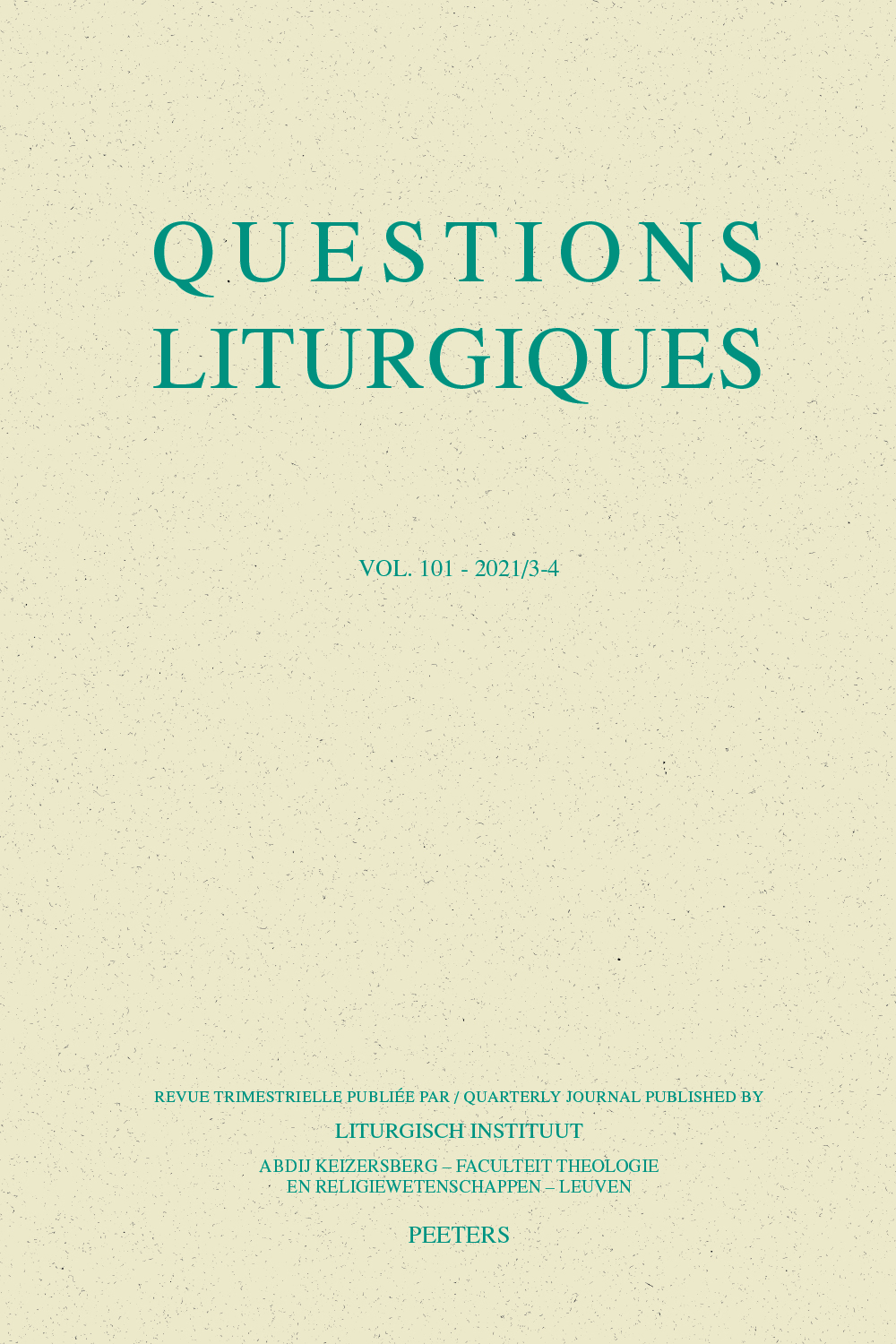 Document Details :

Title: Reflections on the Eucharistic Theology of Book I of Joost van den Vondel's Didactic Poem, Mysteries of the Altar
Author(s): JOBY, Christopher
Journal: Questions Liturgiques/Studies in Liturgy
Volume: 91 Issue: 4 Date: 2010
Pages: 180-200
DOI: 10.2143/QL.91.4.2067477

Abstract :
In 1645, the Dutch poet, Joost van den Vondel (1587-1679), published a didactic poem, Mysteries of the Altar (Altaer-geheimenissen), which is a defence of Catholic Eucharistic theology. Vondel divided the poem into three Books. In this article, I consider in detail the content of Book I, Sacrificial Food (Offerspijze). Here, Vondel uses a number of arguments to support Catholic Eucharistic theology, particularly the doctrine of transubstantiation. For example, he argues that a number of episodes in the Old Testament were prefigurations of the Eucharist, and makes frequent use of analogia entis. Throughout, Vondel uses original and sometimes audacious imagery to try and convince the reader of the truth of his argument. Vondel also devotes considerable energy in Book I to attacking the Eucharistic theology of the Calvinists. Drawing on the writings of Cardinal Bellarmine, he challenges the Calvinists' claim that their Eucharistic theology is supported by biblical and early church authority. He also attacks John Calvin's tendency to modify his Eucharistic theology and ridicules the Calvinists' understanding of the Eucharistic elements, referring to 'sign-crumbs' and 'empty sign-feasts'. I evaluate the strength of Vondel's arguments for Catholic Eucharistic theology and against its Calvinist counterpart, and suggest that his attacks on the latter are in part based on an incomplete understanding of it. Finally, I offer the reader opportunities for further research into a fascinating poem that for too long has received little academic attention.


---

En 1645, le poète néerlandais, Joost van den Vondel (1587-1679), a publié un poème didactique, Les Mystères de l'Autel (Altaer-geheimenissen), qui est une défense de la théologie catholique de l'Eucharistie. Vondel a divisé son poème en trois livres. Dans cet article, je discute en détail le premier livre, la Nourriture du Sacrifice (Offerspijze). Dans ce livre, Vondel emploie plusieurs arguments pour corroborer la théologie catholique de l'Eucharistie, en particulier la doctrine de la transsubstantiation. Par exemple, il soutient que plusieurs episodes dans l'Ancien Testament étaient des préfigurations de l'Eucharistie, et il utilise souvent l'analogia entis. Dans le livre entier, Vondel emploie des images tout à fait originelles et parfois audacieuses pour essayer de convaincre le lecteur que son argument est vrai. Dans ce premier livre du poème, Vondel se consacre aussi à attaquer la théologie eucharistique des calvinistes. Tout en exploitant l'oeuvre du cardinal Bellarmine, il conteste les affirmations des calvinistes que leur théologie eucharistique est corroborée par l'autorité de la Bible et des Pères de l'Église. Il attaque aussi la tendance de Jean Calvin lui-même de modifier sa théologie eucharistique et il tourne en ridicule l'interprétation calviniste des éléments eucharistiques, en les appelant 'signes-miettes' et 'banquets-signes vides'. J'évalue la force des arguments que Vondel emploie pour corroborer la théologie eucharistique des catholiques et pour attaquer celle des calvinistes et je suggère que ses attaques contre cette dernière sont basées dans une certaine mesure sur une compréhension partielle d'elle. Finalement, j'offre au lecteur/à la lectrice des possibilités pour la recherche nouvelle sur ce poème passionnant, qui depuis longtemps n'a pas attiré assez d'attention académique.


Download article