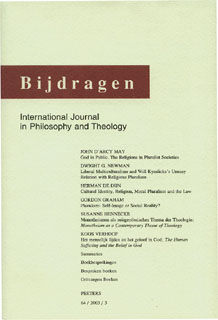 Document Details :

Title: Religious Tolerance and Religious Violence
Author(s): MENDUS, Susan
Journal: Bijdragen
Volume: 71 Issue: 4 Date: 2010
Pages: 426-437
DOI: 10.2143/BIJ.71.4.2064953

Abstract :
In his book Terror in the Mind of God Mark Juergensmeyer writes: 'Perhaps the first question that came to mind when televisions around the world displayed the extraordinary aerial assaults on the World Trade Center and the Pentagon on September 11th 2001, was why anyone would do such a thing. When it became clear that the perpetrators' motivations were couched in religious terms, the shock turned to anger. How could religion be related to such violent acts?'. That question – 'how can religion be related to violent acts?' – is the question Susan Mendus addresses in this article. She discusses the concept of toleration; the specific problems associated, historically, with religious toleration and the differences between modern and historical understandings of religious belief. Her overall aim is to see whether the history of religious tolerance and intolerance can offer some lessons to us, now, in our attempts to secure political peace in the face of religious conflict and religious violence.