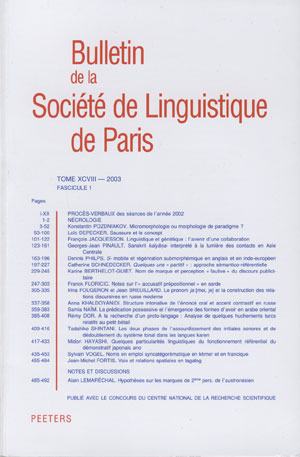 Document Details :

Title: Les formes de gradation du grec ancien en -ούστερος, -ούστατος
Author(s): BLANC, Alain
Journal: Bulletin de la Société de Linguistique de Paris
Volume: 105 Issue: 1 Date: 2010
Pages: 181-196
DOI: 10.2143/BSL.105.1.2062498

Abstract :
Le grec attique de l'époque classique possède quelques comparatifs et superlatifs en -ούστερος, -ούστατος. Ces formes correspondent à des positifs contractes (εὐνούστερος: εὔνους). Depuis longtemps on considère qu'elles contiennent la finale -έστερος qui a été empruntée aux adjectifs sigmatiques, mais la source de l'analogie n'a pas été dégagée de façon précise. Nous mettons en évidence que certaines formes de gradation en -ούστερος, -ούστατος correspondent en fait à des positifs qui ont été sigmatiques. Nous identifions ainsi les quelques formes qui sont à la source du système en question.


---

The Attic Greek language of the classical period has a few comparatives and superlatives in -ούστερος and -ούστατος. These forms correspond to contracted positive forms (εὐνούστερος: εὔνους). It has been long considered that they contain the final -έστερος which was borrowed from sigmatic adjectives, but the source of the analogy has not been identified precisely. We demonstrate that certain forms of gradation in -ούστερος and -ούστατος correspond in fact to positive forms which used to be sigmatic. In this way we identify the few forms which are at the source of the system in question.


---

Das attische Griechisch der klassischen Epoche besaß einige Komparative und Superlative auf -ούστερος, -ούστατος. Diese Formen entsprechen kontrahierten Positiven (εὐνούστερος: εὔνους). Seit langem nimmt man an, dass sie die Endung -έστερος enthalten, die aus den sigmatischen Adjektiven entlehnt wäre. Allerdings konnte bisher der Ausgangspunkt der Analogie nicht ermittelt werden. Hier wird gezeigt, dass in der Tat einige Steigerungsformen auf -ούστερος und -ούστατος zu sigmatischen Positiven gehören. Damit werden einige Formen identifiziert, von denen die genannte Analogie ausging.


Download article