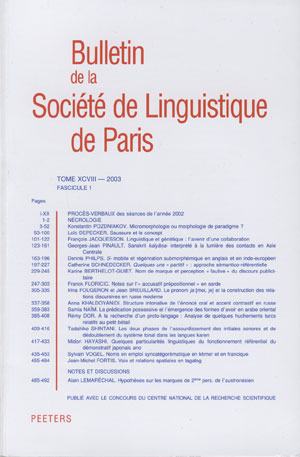 Document Details :

Title: À propos de Saussure, de quelques articles récents et d'une singulière ignorance
Author(s): LAZARD, Gilbert
Journal: Bulletin de la Société de Linguistique de Paris
Volume: 105 Issue: 1 Date: 2010
Pages: 35-48
DOI: 10.2143/BSL.105.1.2062493

Abstract :
Depuis la découverte de nouveaux documents, les publications et débats sur le sens de la pensée de Saussure se multiplient. Il est souvent admis qu'elle n'est pas représentée correctement par le Cours de linguistique générale. Dans le présent article, on souligne l'importance des travaux du philosophe G.G. Granger, qui ont éclairé la signification épistémologique de la doctrine saussurienne, et on soutient qu'il n'y a pas de divergences importantes entre les documents émanés de Saussure lui-même et l'exposé qui en est donné dans le CLG. On commente dans cette perspective quelques articles récemment publiés dans le BSL.


---

The discovery of new documents has given rise to many publications and discussions about the meaning of Saussure's teachings. It is often maintained that they are not correctly represented in the Cours de linguistique générale. In this article, attention is called to the contribution of G.G. Granger, a philosopher whose writings have highlighted the epistemological significance of the Saussurean doctrine, and it is claimed that there is no important divergence between the documents originated from Saussure himself and the CLG. A few articles recently published in the BSL are commented on in this perspective.


---

Die Entdeckung von neuen Dokumenten hat über den wirklichen Sinn von Saussure's Lehre viele Diskussionen und Veröffentlichungen veranlasst. Es wird häufig gesagt, dass sie in dem Cours de linguistique générale nicht korrekt dargestellt wurde. In diesem Aufsatz wird die Aufmerksamkeit auf die Werke des Philosophen G.G. Granger gelenkt, der die epistemologische Bedeutung von der saussurischen Lehre gezeigt hat, und es wird behauptet, dass es zwischen den aus Saussure selbst entstandenen Dokumenten und der Darstellung im CLG keinen wichtigen Unterschied gibt. In dieser Perspektive werden einige Artikel diskutiert, die kürzlich im BSL über dieses Thema veröffentlicht wurden.


Download article