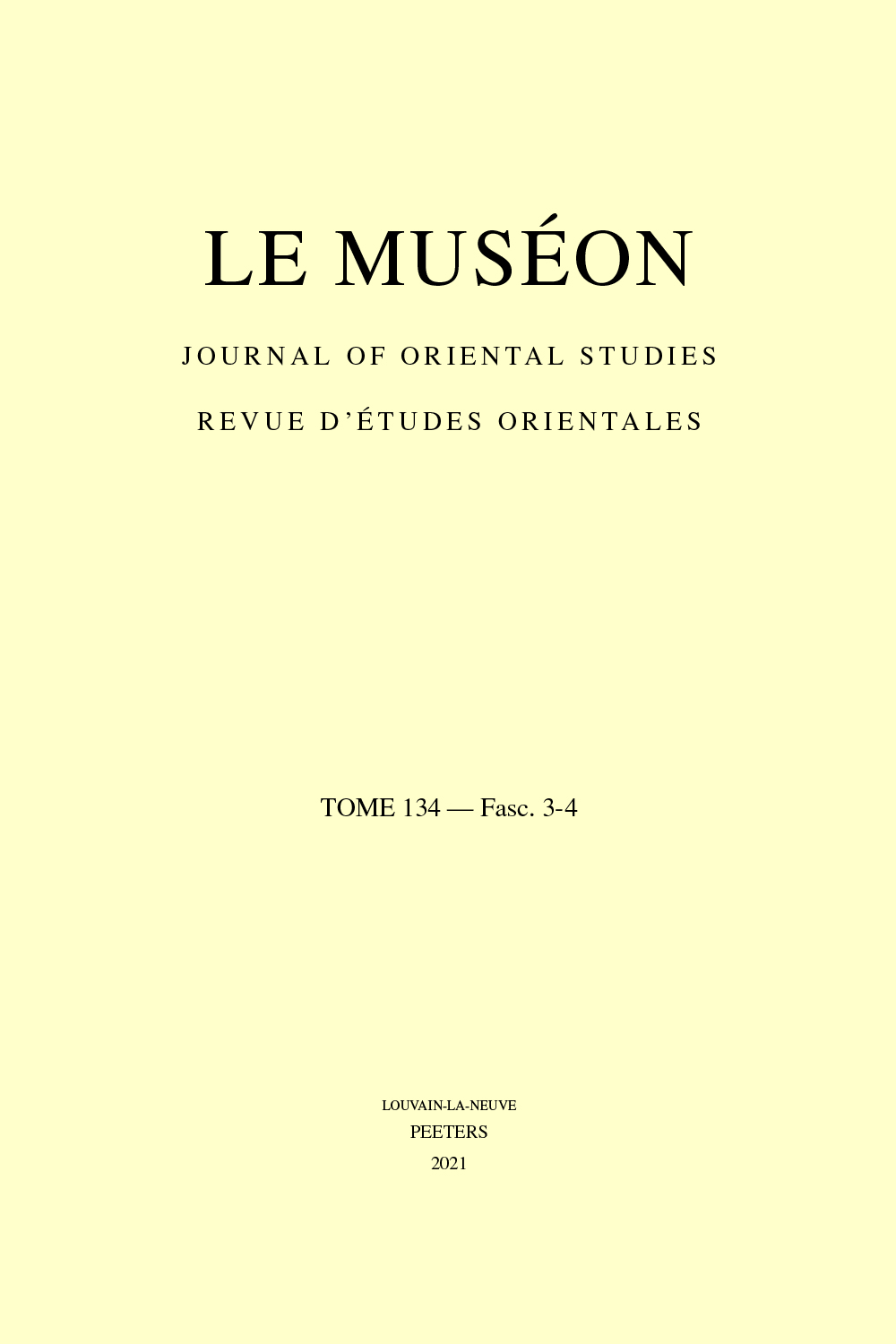 Document Details :

Title: Several Subjects Concerning Akkadian
Author(s): GAI, Amikam
Journal: Le Muséon
Volume: 123 Issue: 3-4 Date: 2010
Pages: 263-271
DOI: 10.2143/MUS.123.3.2062385

Abstract :
The common informative relationship between a substantive and its attribute is that the substantive bears the main informative load and the attribute has only a secondary communicative function. When it is the attribute that bears the main informative load of the collocation, the attribute may (but need not!) precede the substantive.
The collocation nēši ša qaqqari in Gilgamesh (XI/314), which literally is 'the lion of the earth', and conveys 'a snake', matches the Ethiopic (Ge'ez) idiomatic collocation conveying that animal, arwē mədər 'the animal of the earth'.
Mērênu: in Akkadian one finds an adverbial construction conveying a simultaneous state (similar to the Arabic ḥāl). Similar and parallel constructions exist in Ge'ez and Hebrew too. This construction is infrequent and limited to just three or four lexemes; these lexemes, however, match the lexemes conveying the same meanings in Ge'ez and Hebrew, in both of which this construction is also infrequent, and the number of lexemes they use is extremely small as well.
The component pādû in la pādû 'merciless, pitiless', seems to be padû (with short a), as it is a verbal adjective rather than an (active) participle; a verbal adjective of a transitive verb is not necessarily passive, but rather may be active as well, as the dichotomy between the (active) participle and the verbal adjective is not active vs. passive, but rather active vs. stative.
In Gilgamesh, V/194 one finds arû u zību. It seems that in this place these words have the meaning of 'lion and wolf', matching their etymological parallels in Hebrew, Aramaic, Ge'ez and Arabic, as the context fits the characters of lions and wolves, and does not fit that of eagles and vultures.


Download article