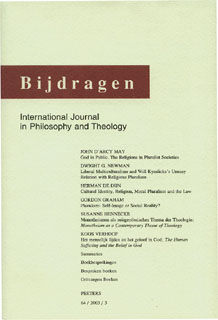 Document Details :

Title: Gods moeilijke persoonlijkheid
Subtitle: Spinoza en Halbertal over het antropomorfisme
Author(s): DESSIN, David
Journal: Bijdragen
Volume: 71 Issue: 3 Date: 2010
Pages: 289-311
DOI: 10.2143/BIJ.71.3.2061176

Abstract :
In contemporary debates about religion, both proponents and opponents seem to share a parental view on God without ever questioning it. This text seeks to trace back that view and compare it with a Biblical alternative. First it is argued that it was Spinoza who needed to depict the Biblical God as a mere father in order to justify his exegesis of him. By connecting all religious imagery to the faculty of imagination and by consequently denying the imagination any direct claims on truth and reason, Spinoza could develop the modern consciousness of progress, as the 'outgrowing,' the leaving behind of an age of irrationality and untruth. With a God reduced to a father, the human identity is reduced to a child and the dramatics between the two to growing up and making space. This idea seems to further underpin the whole modern and even postmodern image of God. But if we read the Biblical God from a different perspective we end up with a very different view. Moshe Halbertal claims that the basic image of Biblical anthropomorphism is not the parental but the marital relation between God and man. This new reading is analysed and compared with Spinoza's exegesis. It turns out that the marital metaphor allows for a whole new and better understanding of God, and connected with that, of religious life, of the value of the Bible, and of the ideas of reason, truth and freedom.