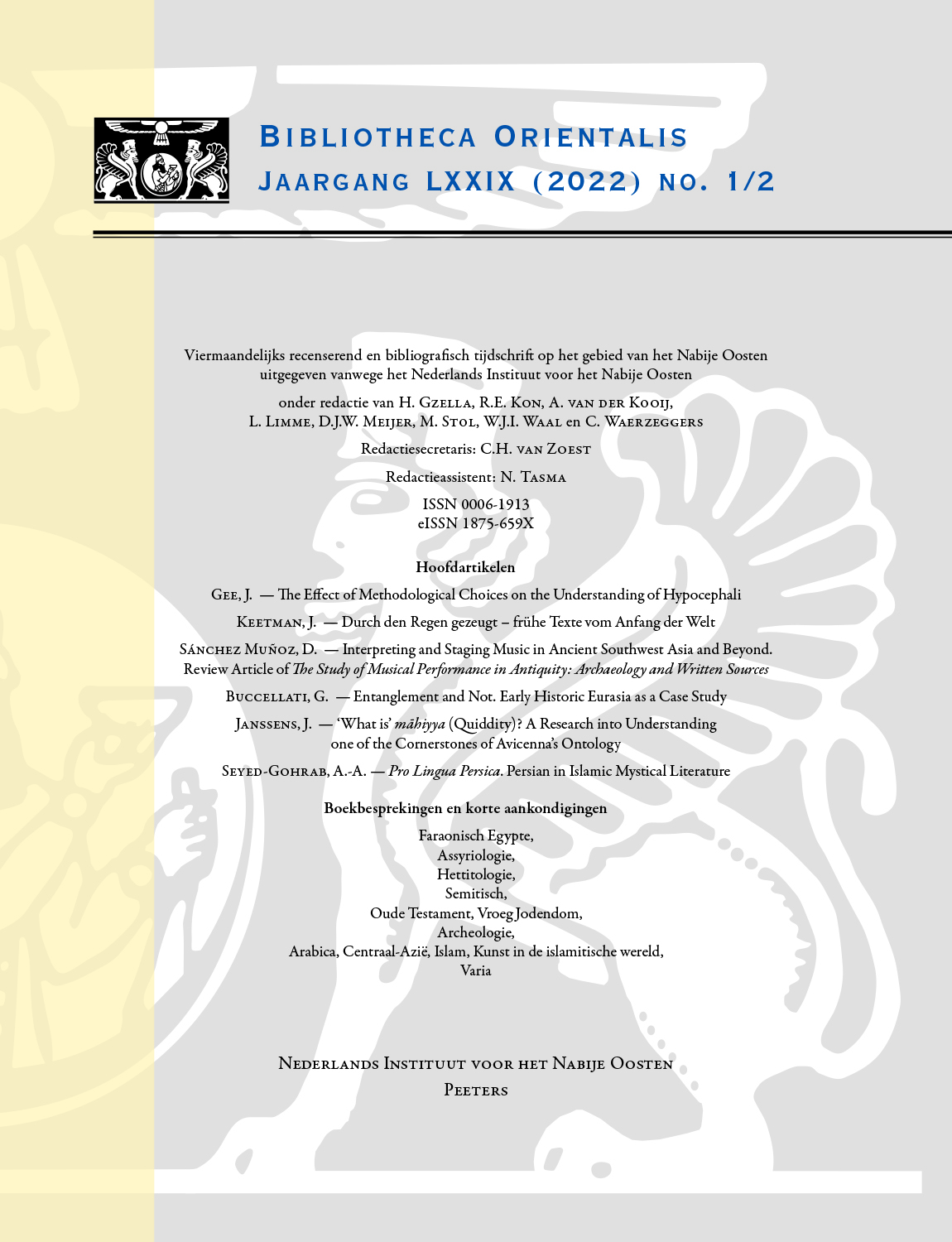 Document Details :

Title: Faraonisch Egypte
Author(s):
Journal: Bibliotheca Orientalis
Volume: 67 Issue: 3-4 Date: 2010
Pages: 282-332
DOI: 10.2143/BIOR.67.3.2057457

Abstract :
GALLOIS, Chr., GRANDET, P., PANTALACCI, L. (éds.) - Mélanges offerts à François Neveu par ses amis, élèves et collègues à l'occasion de son soixante-quinzième anniversaire. (Bibliothèque d'étude 145). Institut Français d'Archéologie Orientale du Caire, Cairo, 2008.

KOCKELMANN, H. - Untersuchungen zu den späten Totenbuch-Handschriften auf Mumienbinden. Band I.1: Die Mumienbinden und Leinenamulette des memphitischen Priesters Hor, Text und Photo-Tafeln; Band I.2: Übersichtsskizzen und Umschrift-Tafeln; Band II: Handbuch zu den Mumienbinden und Leinenamuletten. (Studien zum altägyptischen Totenbuch 12). Verlag Otto Harrassowitz, Wiesbaden, 2008.

ASSMANN, J. - Altägyptische Totenliturgien, Band 3: Osirisliturgien in Papyri der Spätzeit. (Suppl. z. d. Schriften d. Heidelb. Akad. d. Wiss., Philos.-hist. Klasse 20). Universitätsverlag Winter, Heidelberg, 2008.

FAVRY, N. - Sésostris Ier et le début de la XIIe dynastie. Karnak - Abydos - La mer Rouge - La Nubie. (Les grands pharaons). Éditions Pygmalion, Paris, 2009.

BROEKMAN, G.P.F., DEMARÉE, R.J., KAPER, O.E. (eds.) - The Libyan Period in Egypt. Historical and Cultural Studies into the 21st-24th dynasties. Proceedings of a Conference at Leiden University, 25-27 October 2007. (Egyptologische Uitgaven 23). Nederlands Instituut voor het Nabije Oosten & Peeters, Leiden & Leuven, 2009.

PARKINSON R. - The Painted Tomb-Chapel of Nebamun. (Masterpieces of Ancient Egyptian Art in the British Museum). British Museum Press, London, 2008.

LURSON, B. - Osiris, Ramsès, Thot et le Nil. Les chapelles secondaires des temples de Derr et Ouadi es-Seboua. (Orientalia Lovaniensia Analecta 161). Peeters, Leuven, 2007.

ROTHÖHLER, B., MANISALI, A. (Hrsg.) - Mythos & Ritual. Festschrift für Jan Assmann zum 70. Geburtstag. LIT Verlag, Münster, 2008.

LANNA, S. - Lo Stato egiziano nelle fonti scritte del periodo tinita. (BAR International Series 1838). Archaeopress, Oxford, 2008.

LIPPERT, S. - Einführung in die altägyptische Rechtsgeschichte. (Einführungen und Quellentexte zur Ägyptologie 5). LIT Verlag, Münster, 2008.

Korte aankondiging:
La redécouverte d'Amarna. (Égypte, Afrique et Orient 52). Khéops, Paris, 2008.


Download article