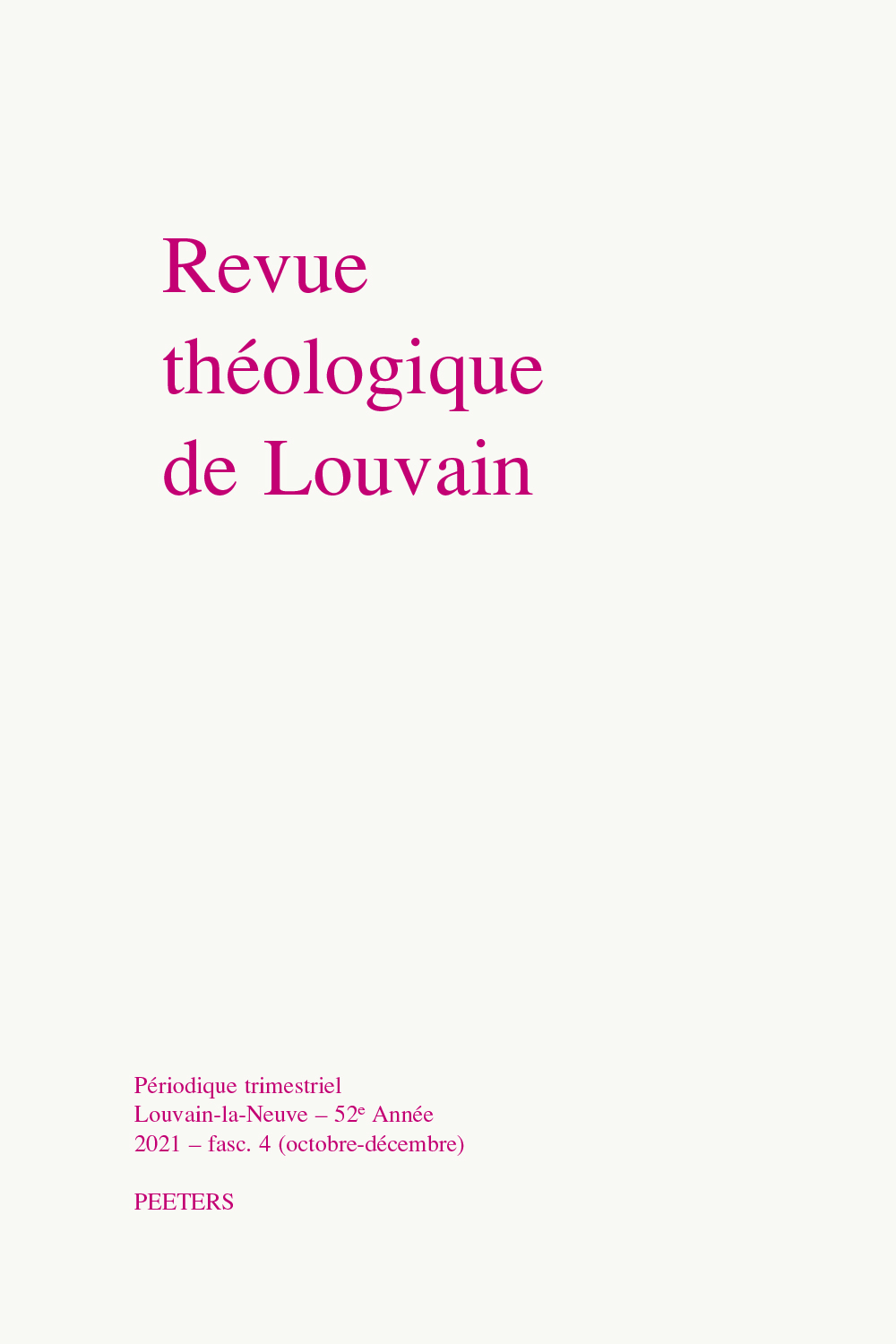 Document Details :

Title: «Au commencement...»
Subtitle: Entre mémoire et désir, la réponse augustinienne à l'énigme du temps
Author(s): DEPROOST, Paul-Augustin
Journal: Revue Théologique de Louvain
Volume: 41 Issue: 3 Date: 2010
Pages: 313-344
DOI: 10.2143/RTL.41.3.2052754

Abstract :
Étroitement liée à son exégèse du premier verset de la Genèse, qui inaugure le surgissement du temps, et à l'exégèse patristique, en général, qui promeut l'explication typologique ou anagogique de la Bible, la réflexion augustinienne sur le temps prétend répondre à la double aporie de l'éternité du temps ou du non-être du temps, à travers une expérience marquée par la méditation sur l'oeuvre de Dieu dans le temps: le temps universel de la création et de la rédemption, le temps personnel de la conversion et de la confession, le temps collectif de l'Empire et des sociétés humaines. De la mémoire au désir, la distentio animi fonde la définition augustinienne du temps, rationnellement, en dilatant le présent vers le passé qui n'est plus et l'avenir qui n'est pas encore, éthiquement, en exprimant la souffrance de l'âme dispersée dans la «région de dissemblance». L'enjeu ultime du temps est alors la conversion, qui fixe le désir de l'homme sur l'avènement d'une cité hors du temps à travers une histoire qui promeut une vision intérieure de la citoyenneté comme instrument de salut individuel et collectif.


---

Closely linked to his exegesis of the first verse of Genesis which ushers in the appearance of time and to patristic exegesis in general which promotes typological or anagogical explanations of the Bible, Augustinian reflexion on time claims to reply to the double paradox of the eternity of time and the non-existence of time by means of an experience marked by meditation on the work of God within time. Firstly, the universal time of creation and redemption; secondly, the personal time of conversion and confession, and, thirdly, the collective time of the Empire and human societies. From memory to desire, it is the distenio animi which is the foundation of the Augustinian definition of time: rationally by dilating the present to the past which is no longer and to the future which is not yet; ethically, by expressing the suffering of the soul which is dispersed in the 'region of dissimilarity'. Thus what is ultimately at stake in the question of time is conversion which fixes mankind's desire on the advent of a city outside of time through history which promotes an inner vision of citizenship as an instrument of individual and collective salvation.


Download article