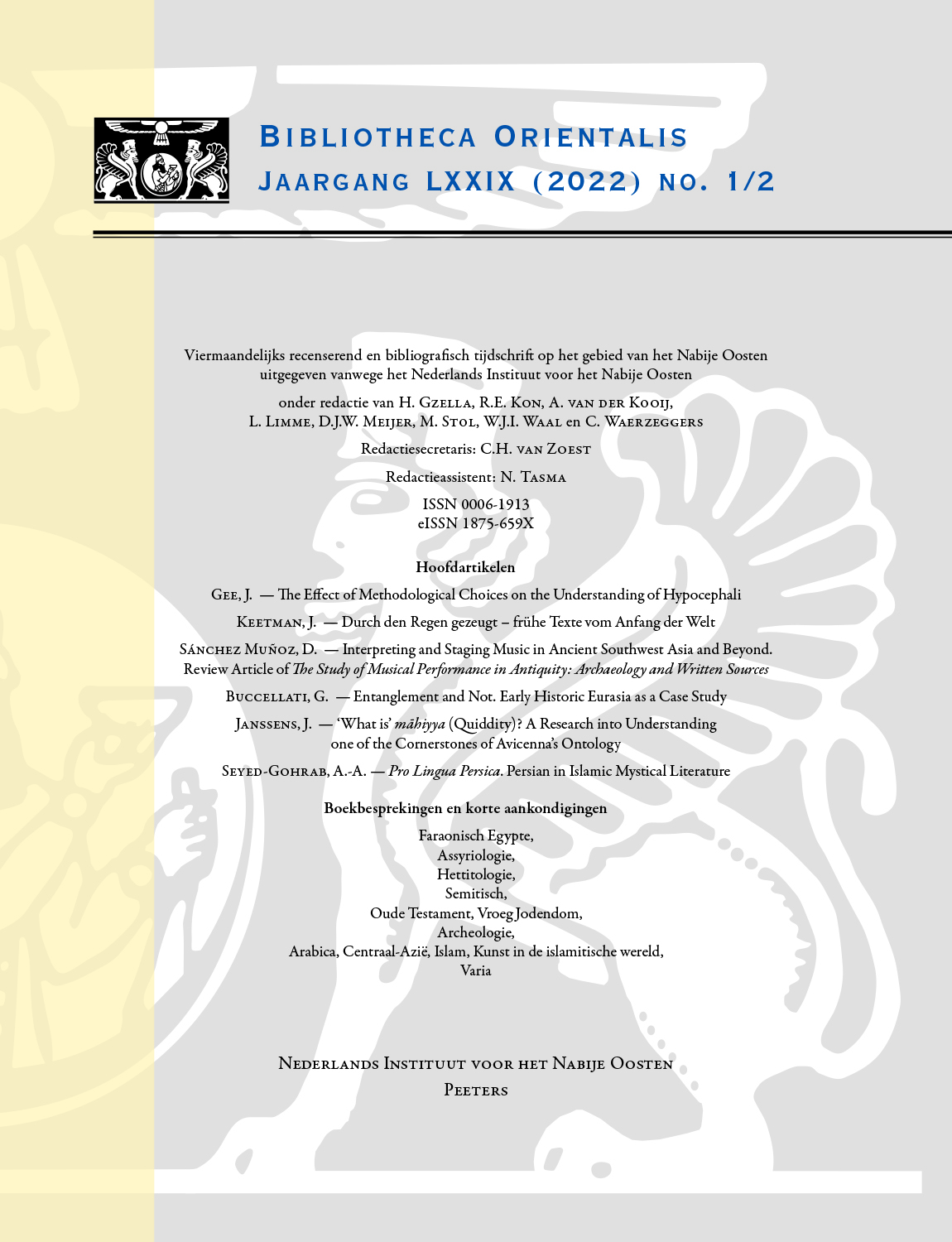 Document Details :

Title: Faraonisch Egypte
Author(s):
Journal: Bibliotheca Orientalis
Volume: 67 Issue: 1-2 Date: 2010
Pages: 36-81
DOI: 10.2143/BIOR.67.1.2052737

Abstract :
HANNIG, R. - Zur Paläographie der Särge aus Assiut. (Hildesheimer Ägyptologische Beiträge 47). Gerstenberg Verlag, Hildesheim, 2006.

KURTH, D. - Einführung ins Ptolemaïsche. Eine Grammatik mit Zeichenliste und Übungsstücken. Backe Verlag, Hützel, 2007.

HOFFMANN, F., QUACK, J.F. - Anthologie der demotischen Literatur. (Enführungen und Quellentexte zur Ägyptologie 4). LIT Verlag, Münster, 2007.

TÖRÖK, L. - Between Two Worlds. The Frontier Region between Ancient Nubia and Egypt, ca. 3700 BC - 500 AD. (Probleme der Ägyptologie 29). Brill Academic Publishers, Leiden, 2008.

BARDINET, T. - Relations économiques et pressions militaires en Méditerranée orientale et en Libye au temps des pharaons. Histoire des importations égyptiennes des résines et des conifères du Liban et de la Libye depuis l'époque archaïque jusqu'à l'époque ptolémaïque. (Études et Mémoires d'Égyptologie 7). Cybèle, Paris, 2008.

VERMEERSCH, P. (ed.) - A Holocene Prehistoric Sequence in the Egyptian Red Sea Area. The Tree Shelter. (Egyptian Prehistoric Monographs 7). Leuven University Press, Leuven, 2008.

CODY, M.E. (ed.) - Egyptian Art. Selected Writings of Bernard V. Bothmer. Oxford University Press, New York, 2004.

LLOYD, A.B., SPENCER, A.J., EL-KHOULY, A. - Saqqara Tombs III: The Mastaba of Neferseshemptah. (Archaeological Survey Memoir 41). Egypt Exploration Society, London, 2008.

ROSE, P.J. - The Eighteenth Dynasty Pottery Corpus from Amarna. (Excavation Memoir 83). Egypt Exploration Society, London, 2007.

JANSSEN, R., JANSSEN, J.J. - Growing Up and Getting Old in Ancient Egypt. Golden House Publications, London, 2007.

PHILIP-STÉPHAN, A. - Dire le droit en Égypte pharaonique. Contribution à l'étude des structures et mécanismes juridictionnels jusqu'au Nouvel Empire. (Connaissance de l'Égypte Ancienne 9). Éditions Safran, Bruxelles, 2008.

Korte aankondigingen:
Les sarcophages égyptiens. (Égypte Afrique & Orient 48). Khéops, Paris, 2007.
Ta-Mery. Jaarlijks magazine voor de vrienden van het oude Egypte. Huis van Horus & Mehen, Amsterdam, 2008.


Download article