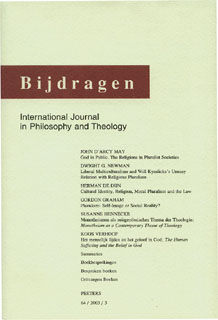 Document Details :

Title: The Place of Art in Kierkegaard's Existential Aesthetics
Author(s): STOKER, Wessel
Journal: Bijdragen
Volume: 71 Issue: 2 Date: 2010
Pages: 180-196
DOI: 10.2143/BIJ.71.2.2051603

Abstract :
Primarily because of recent studies (Gouwens, Erne, Walsh), there has been a revaluation of Kierkegaard's view of art and the aesthetic. This article distinguishes between the ethical aesthetics of the pseudonym B in Either/Or (1843) and Kierkegaard's theological aesthetics. It will show that, while imagination and appropriation are core concepts in both forms of aesthetics, that Kierkegaard's view of radical transcendence – the qualitative distinction between God and human beings – is the norm only for his theological aesthetics. As a central anthropological category, imagination ensures the necessary condition that art is important regardless of the stage of life (aesthetic, ethical, religious). Kierkegaard is not an iconoclast; it is not the image that is at issue but the use to which it is put (contra Pattison). Hermeneutically, the relationship between the work of art and the public has to do with appropriation, with response. Radical transcendence is the norm for the use of the imagination and art in the Christian religion and also determines indirect communication by connecting it to Christology.