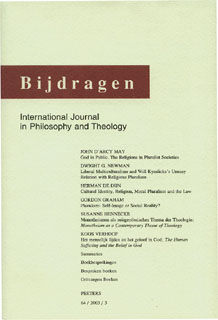 Document Details :

Title: Waarom ergeren theologen zich aan John Hick?
Author(s): MOYAERT, Marianne
Journal: Bijdragen
Volume: 71 Issue: 2 Date: 2010
Pages: 159-179
DOI: 10.2143/BIJ.71.2.2051602

Abstract :
The pluralist hypothesis as popularised by John Hick, which postulates the rough equality of religious traditions, has gained wide approval especially within interreligious circles. Nonetheless, Hick remains one of the most contested philosophers of religion of the twentieth century. Most notably, theologians have been highly critical; their polemical reactions to his pluralist hypothesis reveal their irritation. The question is: from where does this irritation arise? Why are these theologians so offended by a philosopher? How are we to understand the polemics that have arisen in response to Hick's pluralism? In this article I suggest that the controversy surrounding Hick's pluralist hypothesis relates to the way he develops his philosophical reflections in a theological direction. There is something wrong with the way he divides the roles between philosophy and theology. I regard the discussion, which emerged from Hicks philosophy of religion as a prototype for a reflection on the complex relation between both disciplines.