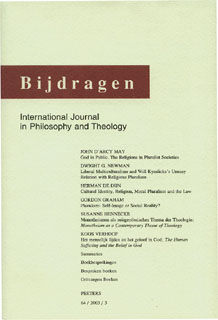 Document Details :

Title: Canon as an Act of Creation
Subtitle: Giorgio Agamben and the Extended Logic of the Messianic
Author(s): DICKINSON, Colby
Journal: Bijdragen
Volume: 71 Issue: 2 Date: 2010
Pages: 132-158
DOI: 10.2143/BIJ.71.2.2051601

Abstract :
The 'messianic' is one of philosophy's most appropriated religious terms, yet one apparently now bereft of its historical religious particularity. This essay thus explores a genealogical approach to the 'messianic' which might prove helpful in uncovering the reasons for this transformation from the theological to the philosophical, and what role, if any, theology still has in determining the meaning and usage of this term. Accordingly, this essay traces the term through the work of Walter Benjamin, Jacques Derrida and Giorgio Agamben. This development is made against the backdrop of another religious term which indirectly pervades the work of all three authors: the canon. The canonical is a term which lingers on the margins of these messianic discourses and needs to be explored further in the context of this work in order to provide a fitting foil to these otherwise 'purely philosophical' developments of the messianic. The necessity for invoking the canonical form will become clear as this analysis is extended to the work of Agamben in order to determine how canons remain an unstated factor in his attempt to eradicate all representation from a just ethical paradigm. In this attempt to articulate a model of understanding (epistemology) that goes beyond the universal/particular divide, he will in fact advance a movement from particularity to particularity which can be profoundly read as a genuine paradigm for articulating a theological principle of creation. Thus, this essay intends to point toward two related conclusions: first, that the triad of canon-creation-representation might be understood as a necessity for cultural intelligibility, yet one that must also be seen in relation to its messianic-redemptive-unrepresented elements; and, second, that even this epistemological framework can be undone through a bid to end all representations which nonetheless allows us to return to a more profound realization of creation.