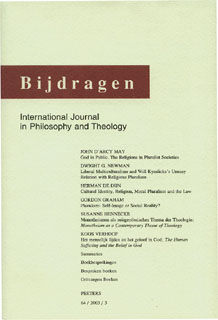 Document Details :

Title: Why Study Liturgical Mysticism?
Subtitle: A Historico-Systematic Theological Reflection
Author(s): CORNET, Ineke , KALLUNGAL, Martin Sebastian
Journal: Bijdragen
Volume: 71 Issue: 1 Date: 2010
Pages: 3-26
DOI: 10.2143/BIJ.71.1.2046945

Abstract :
This article re-introduces the notion of liturgical mysticism from both the perspectives of systematic theology and Church history. The authors adopt an interdisciplinary approach grounded in theology aiming to revisit the concept of liturgical mysticism in order to contribute to developing an adequate interpretive model for mystical texts. The article introduces the notion of liturgical mysticism firstly by a systematic-theological fundamental analysis of Christian mystical experience, showing the uniqueness of that experience and the possible interconnections with liturgy; secondly, by studying liturgical mysticism historically, in the context of the Middle Dutch tradition in the sixteenth century, especially the Arnhem Mystical Sermons, in order to provide a solid historical basis for our argumentation; lastly, the article explores first the impact of our findings on the theological understanding and method in the study of mysticism, and second it notes some ramifications for contemporary Christian spirituality. The authors attempt to show that liturgical mysticism, understood and practised as a tradition bound and context sensitive religious experience, is historically plausible and theologically promising.