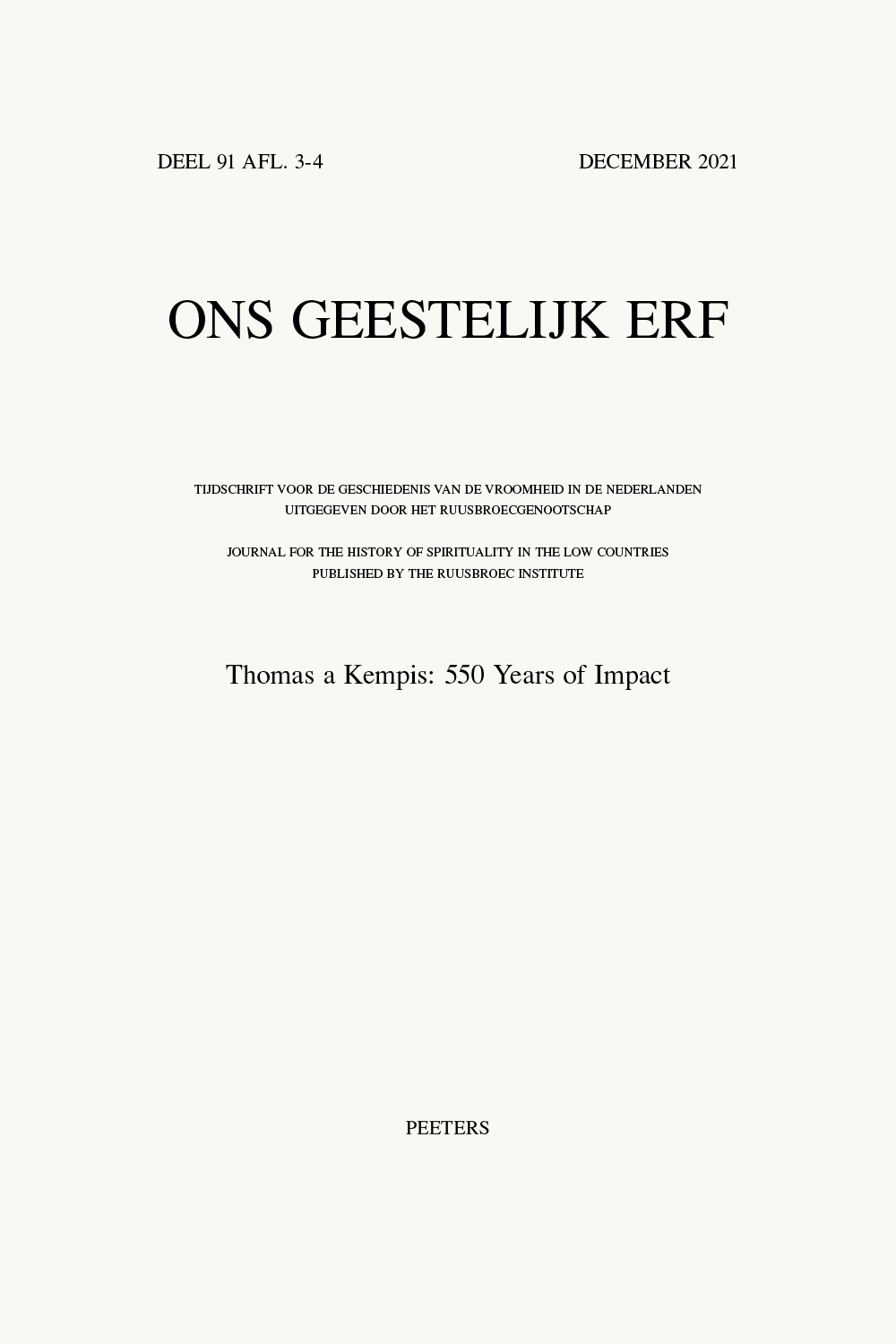 Document Details :

Title: Ubertino da Casale and the Devotio Moderna
Author(s): MOSSMAN, Stephen
Journal: Ons Geestelijk Erf
Volume: 80 Issue: 3 Date: September 2009
Pages: 199-280
DOI: 10.2143/OGE.80.3.2045818

Abstract :
The Arbor vitae crucifixae of the Franciscan Spiritual Ubertino da Casale († c. 1330), a compendious life of Christ in five books, enjoyed a very substantial transmission in the late medieval Low Countries, but – significantly – not elsewhere in northern Europe. The first part of this study presents a conspectus and analysis of the manuscript transmission of the Arbor vitae in the Low Countries and, for purposes of comparison, in the German-speaking regions, both in Latin and in Dutch (and Low German) translation. This expands the known transmission of the work by a factor of about two. The Latin text is shown to have circulated almost exclusively amongst the Canons Regular of the Windesheim Congregation, and surprisingly to have been scarcely known in the Franciscan order. There was no complete translation into any vernacular language, but in Dutch translation it was transmitted in excerpt to constitute four main types of new textual forms: prayers, shorter texts concerning Mary, spiritual exercises, and texts on the interior suffering of Christ. It also served as an important source for the composition of Dutch-language lives of Christ.
The second part of the study examines the reasons for the particular interest in the Arbor vitae in the milieu of the Devotio Moderna. The spiritual exercises set out in the prologues to the work, and which are then used to structure the fourth book (on Christ's Passion), are shown to be precisely congruent with the specific forms of methodical meditation developed in the early years of the movement. Ubertino's understanding of the suffering of Christ as a primarily interior, life-long phenomenon, to which much attention is given in the fourth book and to which the reader is specifically directed in the work's prologues, is shown to accord with a novel approach to Christ's sufferings in the works of Gerard Zerbolt van Zutphen, one of the most important writers of the first generation of Modern Devout. It is then proven that the Arbor vitae was the immediate source both in this respect and in terms of mystical theology for the De passione Domini of Jan van Schoonhoven (written 1404-07), the figure responsible for introducing the spirituality of Groenendaal into the Devotio Moderna. The third part of the study provides a conspectus of all works from the Low Countries of the period c. 1410 – c. 1520 known to draw upon the Arbor vitae. This demonstrates a somewhat wider knowledge of the work in the later period, notably in Carthusian circles. A final contrast is offered to the warm reception of the Arbor vitae in the Low Countries, in the form of Jean Gerson's criticism of precisely those aspects of the work which attracted the most positive attention amongst the Modern Devout.


Download article