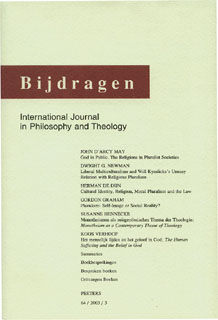 Document Details :

Title: The Philosophical Foundation of Religious Toleration in Spinoza (TTP), Bayle (Commentaire philosophique) and Locke (Epistola de tolerantia)
Author(s): VASSÁNYI, Miklós
Journal: Bijdragen
Volume: 70 Issue: 4 Date: 2009
Pages: 408-422
DOI: 10.2143/BIJ.70.4.2044776

Abstract :
This paper first adumbrates the theory of religious intolerance in early modern Europe. Then it turns to three leading philosophers of the age, Spinoza, Bayle and Locke, who elaborated philosophical defences of religious toleration. The problem it analyzes is that though these thinkers depart from radically different premises concerning the roles of state and church, the abilities of speculative reason, and the concept of God, yet they conclude that government and church alike must grant an almost complete freedom to the individual in the choice of his or her religion at least in foro interno. As an explanation, we first reconstruct the metaphysical foundation on which Spinoza's political theological theory rests in the TTP, in order to show that through this theory, his intention was to enable the philosopher to spread a rational enlightenment deriving from an unconditioned philosophy of God; to advocate not the freedom of religion but the freedom to philosophize. Bayle, by contrast, builds his defence of religious toleration on the superiority of natural practical reason over speculative reason, asserting that while the divine nature is only very imperfectly known by speculative reason, the moral commands of religion have to be controlled by the divinely inspired, universal principles of practical reason. Locke advocates the necessary separation of state and church ultimately on the grounds that the individual is able to demonstrate the existence and attributes of God all alone – his rationale of religious toleration is a corollary of his metaphysical theory concerning the nominal knowability, by natural speculative reason, of the divine nature. We conclude that the similarities in their respective defences of religious toleration are only formal, and determined by their different metaphysical presuppositions.