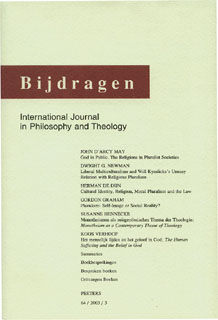 Document Details :

Title: Van consensuspluralisme naar radicaal pluralisme
Subtitle: Een analyse van de vooronderstellingen van een Vlaams debat over actief pluralisme
Author(s): MOYAERT, Marianne
Journal: Bijdragen
Volume: 70 Issue: 3 Date: 2009
Pages: 284-303
DOI: 10.2143/BIJ.70.3.2042634

Abstract :
Active pluralism, an idea advanced by Steve Stevaert, former leader of the Flemish Socialist political party, has been commonly accepted among most progressive citizens. It is now a political, social and pedagogical 'hot' topic. Anyone wishing to be perceived as 'open' pleads earnestly for interreligious dialogue. Instead of passive tolerance, which too often leads to indifference, the (religious/cultural) other should now be entitled to our active concern. What is more, it benefits society as a whole. Congenial as this is, the plea for active pluralism remains rather vague. This vagueness has the advantage that everyone can embrace active pluralism and be a winner. However, if active pluralism is to be more than just the latest novelty it will require conceptual clarity. Only then can it be assessed on whether it succeeds in offering a better alternative to passive pluralism. In this article I reflect on the Flemish discussion on active pluralism and intend to articulate the philosophical, anthropological and hermeneutical presuppositions underlying the concept. To do so, I take as my starting point the recent publication by the philosopher Guido Vanheeswijck, Tolerantie en actief pluralisme. De afgewezen erfenis van Erasmus, More en Gillis.