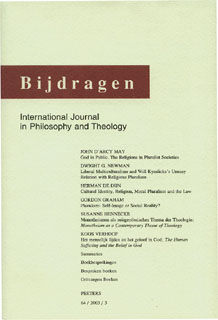 Document Details :

Title: The Care for the Present
Subtitle: Giorgio Agamben's Actualisation of the Pauline Messianic Experience
Author(s): DE MEYERE, Job
Journal: Bijdragen
Volume: 70 Issue: 2 Date: 2009
Pages: 168-184
DOI: 10.2143/BIJ.70.2.2037126

Abstract :
According to Giorgio Agamben, the messianic thinking of Saint Paul opens a new way of understanding our human existence. Paul's ho nyn kairos or 'the time of the now' is a specific experience of time in which new possibilities of conceiving human lifeare unfolded. Agamben furthermore argues that we should not interpret the Pauline letters as testimonies of the past, but rather as texts that point to a radical contemporary experience. In this article, this radical actualisation of the Pauline heritage is analyzed. It is argued that Agamben infuses Pauline thinking in his own understanding of contemporary political life. By applying a methodology of (messianic) displacement to both the contemporary experience of human political life and the past messianic experience of Pauline community, a new interpretation of the human form of life is introduced by Agamben. This new form of life testifies of a non-representable human residue beyond every possible political representational act. This human residue is according to Agamben the true 'subject' of a new political ethos. In his philosophical thinking, Paul's 'time of the now' thereby becomes a messianic possibility of our own 'present' or our own current historical moment.