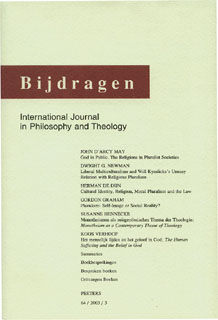 Document Details :

Title: Heidegger's Explication of Religious Phenomena in the Letters of Saint Paul
Author(s): VEDDER, Ben
Journal: Bijdragen
Volume: 70 Issue: 2 Date: 2009
Pages: 152-167
DOI: 10.2143/BIJ.70.2.2037125

Abstract :
In his very early work, Heidegger was already fascinated by the problem of time, which became more and more radicalized in his thinking. The experience of time, and its connection to the status of philosophical concepts, forms the background of Heidegger's reading of Paul in his 1920-21 lecture course, 'Introduction to the Phenomenology of Religion.' In discussing the peculiarity of philosophical concepts, Heidegger points out that their uncertainty is by no means accidental, but is in fact endemic to them. This amounts to a definitive step away from the Platonic, Cartesian and Hegelian tradition and its ideal of certainty. In this article the author begins by presenting Heidegger's description of the phenomenon of time. Then he presents his reformulation of the status of philosophical concepts, and he ends by showing how this is present in Heidegger's analysis of the letters of Saint Paul. Especially in Heidegger's interpretation of the letters to the Thessalonians, he shows how the actualization of factical life is understood on the basis of the 'parousia,' the second coming of Christ. An essential moment of the orientation of factical life appears in the articulation of the actualization of the lived life; this is historicality. The meaning of human existence appears in existence as historicality. The way in which factical life lives time is the actualization of historicality.