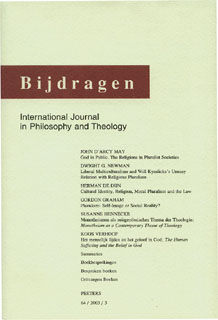 Document Details :

Title: Just Ecology?
Subtitle: On Intergenerational and Intragenerational Responsibilities
Author(s): VAN STICHEL, Ellen
Journal: Bijdragen
Volume: 69 Issue: 4 Date: 2008
Pages: 411-442
DOI: 10.2143/BIJ.69.4.2033339

Abstract :
Faced with at least two major challenges, namely, worldwide poverty and inequalities, and ecological changes, our world is confronted with the issue of balancing the concern for the social needs of the present generation, as an expression of intragenerational responsibilities, with the care for the environment for future generations, as fulfilling intergenerational responsibilities. After demonstrating how the philosophical debate indeed validates the notion of intergenerational responsibilities, this article seeks to investigate the relationship between inter- and intragenerational responsibilities. Whereas this relationship is often considered as a troubled and conflicting one, I aim to show that there are reasons to link the problems of global justice and ecological degradation. It will be argued that both global inequality and the ecological crisis are moral problems caused by a particular kind of development philosophy and lifestyle. Consequently, people have a responsibility to take these social and ecological issues into account in their daily lives. In the last section, some theological reflections are provided with regard to the idea of intergenerational responsibilities, their relationship to intragenerational responsibilities, and the contribution of theology as an inspirational source for change.