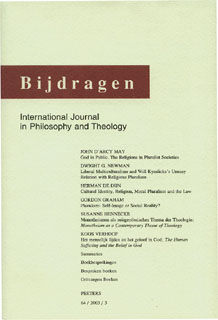 Document Details :

Title: Ter verdediging van het Christendom
Subtitle: Grondtrekken van Kierkegaards ethos van de bewapende neutraliteit
Author(s): SLOOTWEG, Timo
Journal: Bijdragen
Volume: 69 Issue: 4 Date: 2008
Pages: 382-410
DOI: 10.2143/BIJ.69.4.2033338

Abstract :
This article refers to Kierkegaard's complex Christian apologetics. Several of his works, mainly those stemming from the 'second authorship', are interpreted under the aspect of Kierkegaard's paradoxical defense of Christianity, aimed in particular, not against the so-called 'heathens', but against those who self-confidently (as Christians) advance its credibility on dubious (unchristian) grounds. To substantiate the importance of this defense it is shown that it has recently received a noteworthy actuality in the light of a 'newly arisen superior tone in philosophy'; a tone voiced by 'enthusiasts' of a religiously inspired social ethics of recognition, friendship, community, Bildung and tradition. Their concern is about the 'malaise of modernity', the excessive liberalism and individualism of contemporary (western) culture, for which religion (as a source of social cohesion) supposedly is the sollution. Their (Aristotelian-Hegelian) critique is confronted with Kierkegaard's (Augustinian-Lutheran) ethos of suspense and his concept of 'armed neutrality'. Judged from this existential religious perspective, the enthusiasts are (in fact) defending a revaluation and resurrection of what is merely a pseudo-Christian spirit. They represent a 'spiritual materialism' unconsciously inspired by the hidden and repressed offense they take to the (in essence) a-social 'verticality' of Christianity, in particularly to the Christian dogmas with respect to the subject of sin and love.