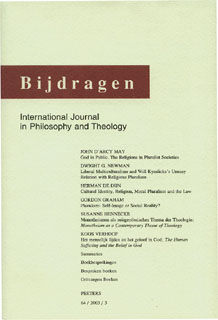 Document Details :

Title: Christological Problems in the Understanding of the Sonship in Meister Eckhart
Author(s): KIKUCHI, Satoshi
Journal: Bijdragen
Volume: 69 Issue: 4 Date: 2008
Pages: 365-381
DOI: 10.2143/BIJ.69.4.2033337

Abstract :
Since the beginning of Christianity, the understanding of Christ's sonship (filiatio) has played an essential role in soteriology. According to the Church Fathers and to the medieval theologians, the human person can become a son of God by the grace of adoption through the sonship of Christ. However, the German Dominican, Meister Eckhart (ca. 1260-1328), uses the theological concept 'the Only-begotten Son', which stands for the divine sonship of Christ himself, to describe the human condition and demonstrates the equality between Christ and the human person. This quite unusual understanding drew the attention of the Church authorities in his time, because it could be associated with the doctrines of heretics in the late Middle Ages who insisted on the perfect identity between Christ and the human person. In the end, Eckhart's teaching including the understanding of the sonship was condemned by the papal bull In agro dominico (1329) together with his other teachings. The present article attempts to reconstruct this one of the most challenging teachings of Eckhart by the analysis of his text, mainly the text of his German homilies, and to examine how he understands the relationship between Christ and the human person regarding the sonship.