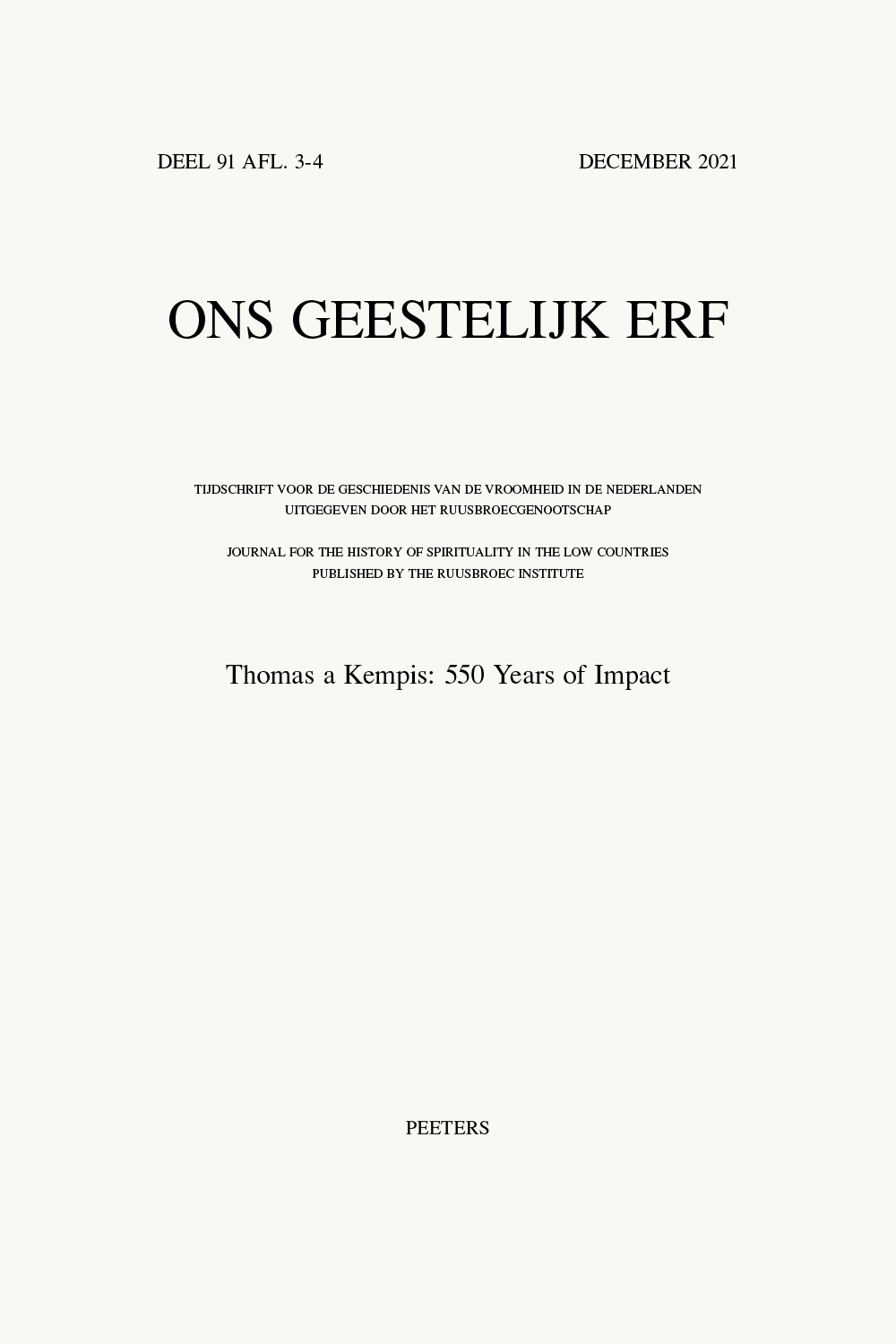 Document Details :

Title: Twee onuitgegeven brieven van Geert Grote over de derde orde van Sint-Franciscus
Author(s): VAN ENGEN, Hildo
Journal: Ons Geestelijk Erf
Volume: 79 Issue: 2 Date: Juni 2008
Pages: 105-145
DOI: 10.2143/OGE.79.2.1234566

Abstract :
A manuscript that was composed around 1531 by Peter Jansz, a lay brother from the Antwerp begards community, contains several texts concerning the Third Order of Saint-Francis. Among these texts are two unedited Middle Dutch letters by Geert Grote, the initiator of the Modern Devotion. In the first letter, Grote tells an anonymous addressee that his or rather her choice for the Third Order is a just choice, as long as the stipulations of the Third Rule of 1289 are observed strictly. When one is not willing to accept the implications of the Rule – with regard to clothing, food and liturgical practices – he or she should better not aspire to obey it. The last part of this letter seems to be a separate text in itself, that is to say a list of affairs which do not accord with the Third Franciscan Rule. The second letter, directed to the same person, answers the question if it is a matter of simony when someone pays for her entrance to a beguine's convent. Besides some striking differences, this letter shows strong similarities to Grote's writing De simonia ad beguttas; the letter which is presented here is probably a later rewording of this text by the author himself. In his letter, Grote argues – with reference to several legists – that also for beguines and members of the Third Order, buying a living in a convent must be considered simony. Although the headings above the letters indicate that both letters were directed to sisters in Zwolle, the content of the letters itself do not necessarily confirm this. The least one can say is that the texts has come down to us via Zwolle. In the second half of the fourteenth century, this town had a convent of beguines belonging to the Third Order, which sisters were supervised by the Franciscans of the neighbouring town of Kampen. Because of the bad quality of this supervision, Geert Grote and other Modern Devout succeeded in reforming the beguine convent after detaching it from the Third Order. The text of Grote's letters might have reached the Brabant area through some convents of the Third Order which were founded by Modern Devout in the dioceses of Utrecht (Chapter of Utrecht) and Liège (Chapter of Zepperen) from 1399 onwards.


Download article