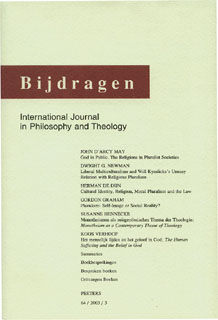 Document Details :

Title: Reconstructing the Dialectics in Karl Barth's 'Epistle to the Romans'
Subtitle: The Role of Transcendental Arguments in Theological Theorizing
Author(s): GRUBE, Dirk-Martin
Journal: Bijdragen
Volume: 69 Issue: 2 Date: 2008
Pages: 127-146
DOI: 10.2143/BIJ.69.2.2031570

Abstract :
In Karl Barth's famous 'Epistle to the Romans', Second edition, ('Romans II') the negation seems to be dominant: Each and every possibility to 'have' ('Haben') God, i.e. to cognize Him, is denied. More precisely speaking, Barth proposes a dialectics of negation and affirmation within which the negation seems to be dominant: He alludes frequently to the possibility to cognise God but then denies that possibility. An important question in Barth-research is thus how this dialectics is to be interpreted. Most Barth-researchers approach this question via 'ideengeschichtliche' means, i.e. via the question what the background of Barth's dialectics consists of.
In chapter I, I scrutinize both of the currently prevailing paradigms for explaining the background of Barth's dialectics: In line with the majority of current researchers on the issue, I suggest that the neo-Kantian 'dialectics of origin' ('Ursprungsdialektik') has influenced the formulation of the dialectics in Romans II. Karl Barth became familiar with that dialectics through his brother Heinrich Barth, a neo-Kantian (I,1). However, against a recent trend in Barth-research, I suggest that the influence of Sören Kierkegaard's 'dialectics of existence' should not be underestimated. Karl Barth used both sorts of dialectics side by side (I, 2).
In chapter II, I draw the systematic consequences of the 'ideengeschichtliche' considerations of chapter I. First, I suggest that philosophical explanations of the above sort account for the basic 'raison d'être' for there being such a dialectics, non-philosophical explanations for its specific shape. That is, the classical psychological explanations of the dialectics of Romans II (e.g. that Barth was deeply disappointed about Liberal Theology) explain the reason why he emphasizes the negation within the dialectics that strongly but cannot sufficiently explain the fact that there is such a dialectics. In II, 2, I utilize the above considerations to answer the classical question whether the negation has priority over the affirmation. I deny that. Barth emphasizes the negation within the dialectics of affirmation and negation strongly in order to reject the thendominant Liberal Theology. Yet, conceptually, his dialectics presupposes a more fundamental affirmation, viz. that God is totaliter aliter. But is the affirmation that God is 'totaliter aliter' not inconsistent? Either He is 'totaliter aliter' – in this case we cannot say anything meaningful about Him, not even that He is 'totaliter aliter'. Or, else, we can say something meaningful about Him. But then He is not truly 'totaliter aliter'. I suggest that a transcendental strategy provides interesting possibilities for getting out of that impasse: By holding that God is to be postulated on transcendental grounds rather than to be cognized in the proper sense of the word, it becomes possible to hold both that God is 'totaliter aliter', non-approachable and that we can claim that in a meaningful fashion. I admit, though, that applying transcendental strategies for theological purposes is not without problems. Yet, the prospects they provide for theological theorizing makes it worth investigating them further in spite of their problems (II, 3).