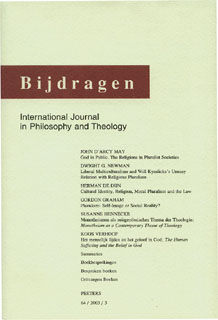 Document Details :

Title: Het verschijnsel van een Afrikaanstalige filosofie
Author(s): DUVENAGE, Pieter
Journal: Bijdragen
Volume: 69 Issue: 1 Date: 2008
Pages: 52-69
DOI: 10.2143/BIJ.69.1.2028873

Abstract :
The phenomenon of Afrikaans philosophy is the result of social and cultural circumstances that have played themselves out in the last three centuries in South Africa. Since the 19th century Afrikaans and South African philosophy has been influenced by British Idealism, continental thinking (which includes phenomenology, existentialism, critical theory, poststructuralism) logical positivism, and a variety of religious positions such as reformational philosophy and neo-Thomism. It is also the case that South African philosophers who work in fields such as postmodernism, postcolonialism, feminism and analytical philosophy, do so mostly under the influence of contexts beyond South Africa's borders. It is thus possible to argue that there does not really exist a distinctly South African philosophical tradition. Against this background one could ask if Afrikaans philosophy is a kind of phenomenon that can continue or disappear. To answer this question, this article starts with a reconstruction of the institutionalisation of philosophy in South Africa. After the initial Dutch influence in South Africa a British colonial educational system emerged during the 19th century. From the first institutions of higher education during the 19th century the first tertiary institutions emerged in the early part of the 20th century at Cape Town, Stellenbosch, Witwatersrand (Johannesburg), and Pretoria. Although other universities were subsequently instituted, these four can be considered as the four founding residential universities in South Africa. It is also at these universities (and at Colleges in Grahamstown, Bloemfontein, Durban and Pietermaritzburg) that British Idealism had a major influence on the early stages of South African philosophy (1873-1940). Against this background figures such as Fremantle (Cape Town), Walker (Stellenbosch), Hoernlé (Johannesburg), Lord (Grahamstown) and Macfadyen (Pretoria) were instrumental. From the 1930s the hegemony of British Idealism was challenged by analytical philosophy (at mainly English speaking South African universities) and continental traditions (at mainly Afrikaans speaking universities). Since the political transformation of South Africa (1994) African philosophy has also emerged as a major philosophical tradition. The challenge for Afrikaans philosophy in contemporary South Africa is to explore those intellectual traditions that have shaped philosophy in South Africa, to know where they are coming from and to understand how they were transformed under (post-)colonial conditions. Such a (genealogical) perspective is worthwhile by providing a historical and material corrective to arguments that might otherwise strive to reconcile cultural values and ideas in an apolitical and ahistorical manner.