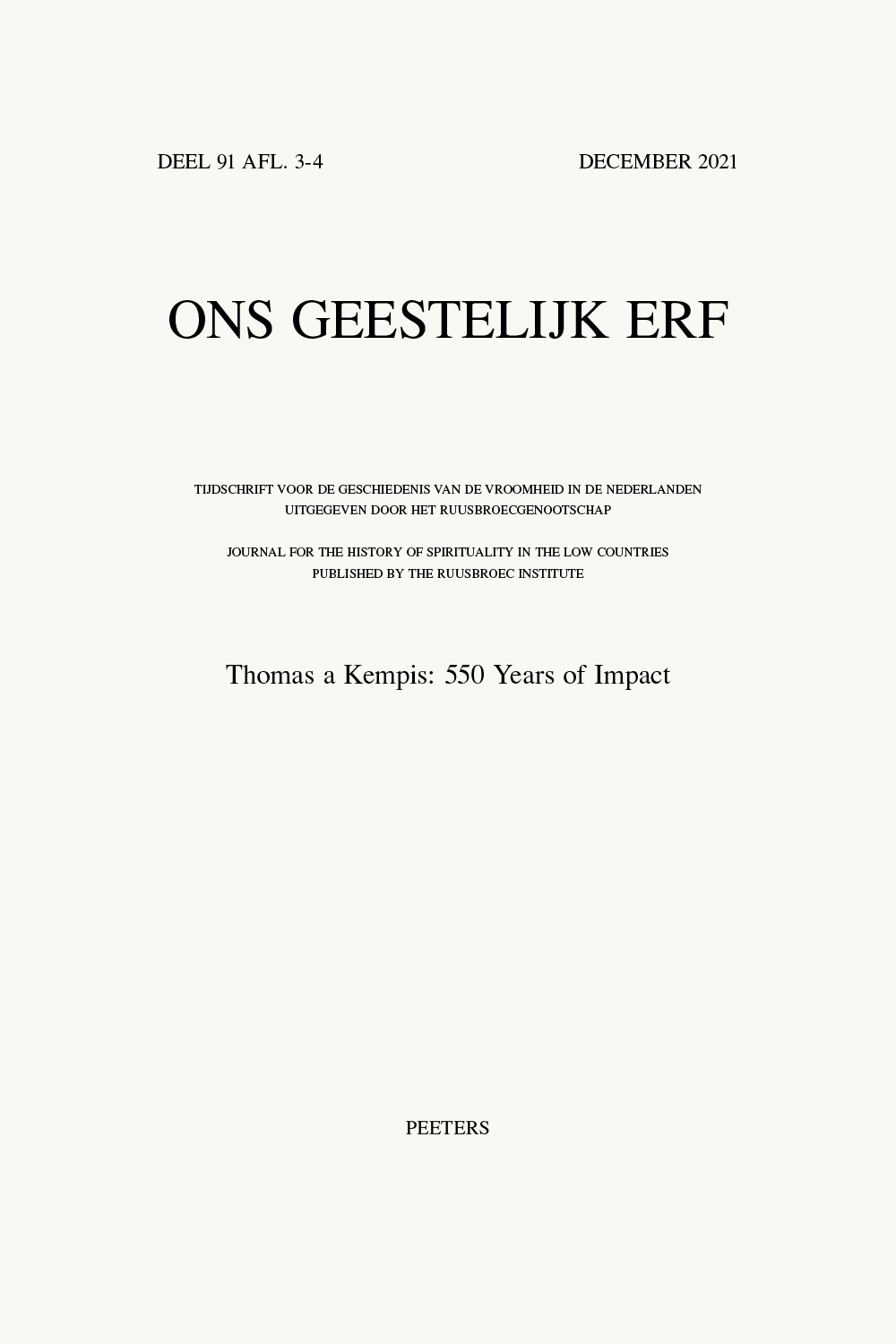 Document Details :

Title: Het voorwoord bij de 'Leuvense bijbel' van Nicholaus van Winghe (1548)
Subtitle: Over Schrift, Traditie en volkstalige bijbellezing
Author(s): FRANÇOIS, Wim
Journal: Ons Geestelijk Erf
Volume: 79 Issue: 1 Date: Maart 2008
Pages: 7-50
DOI: 10.2143/OGE.79.1.2028819

Abstract :
In September 1548, the so-called Dutch 'Louvain Bible' was issued. It was translated from the Latin Vulgate by Nicholaus Van Winghe, under the supervision of the Louvain theologians. In its extensive prologue, Van Winghe offers a good summary of the theologians' (and particularly John Driedo's) position as regards the relation between Bible and Tradition, and the legitimacy of reading the Bible in vernacular translations. In several passages, Van Winghe adopts a rather restrictive point of view by warning against a "free" reading and interpretation of the Bible by the illiterate masses. He believed that this practice inevitably led to errors and heresies. He emphasized that those people whose intellectual and spiritual capacities were too limited to fathom Scripture – a group that included most of the laity – did better to get acquainted with the text with the help of the commentaries of the sacred doctors or by listening to the sermons of competent preachers. In this way, Scripture was explained in the light of the traditional doctrine(s) and customs of the Church that were not explicitly mentioned in the Bible but were universally observed within the Church and thus handed down from the apostolic times via an unbroken line of succession. In his prologue, Van Winghe also noted that many 'falsified' Bibles had been in circulation for quite some time. In his opinion, these Bibles had been 'falsified' in that either they insufficiently or inaccurately rendered the text of the Vulgate or they contained overt theological errors. He also labeled as deeply problematic the practice that allowed glosses and summaries above the chapters to contain erroneous doctrines. In spite of the rather restrictive position he defended in his prologue, it must be remembered that it was actually Van Winghe who was responsible for the redaction of the new and official Dutch Vulgate translation, which itself was primarily intended as an alternative to the aforementioned "falsified" Bibles. Recall, too, that an orthodox Bible translation had to function in a strict ecclesiastical setting: common people were allowed to engage in personal reading of the Bible as part of their preparation for the sermons they would hear in church.


Download article